One US service member, two contractors killed in Al-Shabaab attack in Kenya, two DoD personnel injured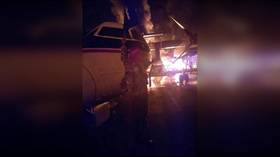 The US military's Africa Command has confirmed that one serviceman and two contractors were killed on Sunday when the jihadist militant group Al-Shabaab attacked a military base in Kenya.
The injured are in a stable condition and are being evacuated at the moment, the statement said.
Camp Simba, which hosts US and local troops, came under attack on Sunday morning. The naval base is located in Manda Bay in Lamu County on Kenya's coast, bordering Somalia.
"Our thoughts and prayers are with the families and friends of our teammates who lost their lives today," US Army General Stephen Townsend said in the statement.
The general promised to "pursue those responsible" for the attack and prevent Al-Shabaab jihadists from creating a "safe haven" in Africa.
The attack on the military base included "indirect and small arms fire." Though the jihadists made it through the perimeter, they were repelled by forces within the base. Six contractor aircraft vehicles were damaged "to some degree" in the attack.
Established in 2004, Camp Simba is used by the US to train Kenyan naval units, and is believed to play an important role in American operations in Somalia and Yemen, including drone strikes.
Kenyan troops participate in the African Union Mission in Somalia (AMISOM), which is aimed at supporting the Somalian government in its fight against Al-Shabaab, a jihadist group based in East Africa. In a recent attack, the militant group ambushed a bus in December and killed 11 people, including seven police officers. The US government designated al-Shabaab a Foreign Terrorist Organization in 2008.
Think your friends would be interested? Share this story!
You can share this story on social media: