Aggression against Baghdad embassies will be punished, protesters should stay away – Iraqi PM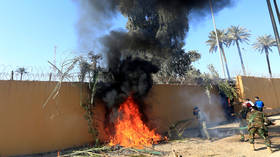 Iraqi Prime Minister Adel Abdul Mahdi has issued a statement urging protesters to stay away from all diplomatic buildings in Baghdad, after demonstrators stormed the fortified compound housing the US embassy.
The prime minister said that any aggression or act of violence against foreign diplomats or their staff would be punished.
Spurred by anger over US airstrikes targeting a Hezbollah militia in the country, demonstrators on Tuesday managed to force their way into part of the heavily-fortified Green Zone, setting fires and destroying doors and security cameras around the embassy.
The demonstrations were sparked by growing fury over US military strikes against three Kataib Hezbollah targets in Qaim, Iraq, which purportedly killed 25 fighters. The Pentagon has accused the Iran-allied group of carrying out attacks against coalition troops stationed in Iraq.The Iraqi prime minister strongly condemned the strikes, while Iran denied any involvement in attacks against US forces.
Also on rt.com
Protesters 'break into' US embassy compound in Baghdad, as crowds rally against American airstrikes in Iraq (PHOTO, VIDEO)
Like this story? Share it with a friend!