MiG-29 jet fighter crashes at inactive volcano in Iran, rescue mission launched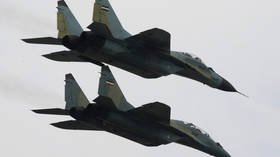 An Iranian MiG-29 has crashed into the Sabalan mountain range in the northwestern Ardebil Province on Wednesday. Efforts to locate the pilot are hampered by a severe snowstorm.
The jet was lost during a routine patrol mission, the press office for the military said. According to Tasnim News Agency, the plane took off from the Tabriz Air Base. Locals told reporters they heard a loud bang near Sabalan when the crash occurred.
The army stated that the MiG-29 was flown by an "experienced" pilot, whose fate is unknown. A rescue operation to retrieve him is hampered by severe weather and a snowstorm in the area.
Earlier reports suggested that the plane was a trainer aircraft, with two pilots on board.
The third-highest mountain peak in Iran, the Sabalan has a volcano crater lake on its summit.
An F-5 fighter jet crashed during a training mission in the southwestern Khuzestan Province last year, killing one of its two pilots.
Think your friends would be interested? Share this story!
You can share this story on social media: