We blame Iran, because Iranian arms were used! Saudis double down on claim as origin of oil-plant attack remains unclear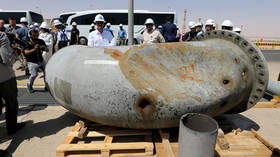 Saudi Arabia holds Tehran "responsible" for attacks on oil plants since "Iranian weaponry" was used, the Saudi foreign minister has said. An investigation into the attack is ongoing and Riyadh is discussing a response with allies.
The kingdom has been holding talks with its "allies and friends" to decide what to do in the aftermath of the attack, FM Adel al-Jubeir said during a press conference on Saturday.
Also on rt.com
Even Saudis don't believe fiction of Iranian attacks on oil plants – Zarif
While Yemen's Houthi rebels have claimed responsibility for the attack, Riyadh has refused to believe that they have such capability. Al-Jubeir said they are "certain that the attacks did not come from Yemen but from the north."
The Aramco attacks were undertaken with Iranian weapons and for this reason we hold Iran accountable for them.
After claiming responsibility for the September 14 attack on the oil processing facilities in Abqaiq and Khurais, the Houthis threatened to send their attack drones to the UAE, another member of the Saudi-led coalition bombing Yemen. On Friday, the Yemeni rebels said they'd halted attacks on Saudi Arabia but were expecting a stop of the coalition's bombing campaign in return.
Also on rt.com
All options on the table against Iran, Saudi envoy to Germany warns
This is unlikely to happen, though, as the coalition just launched a massive military operation against "legitimate military targets" in southwestern Yemen.
Earlier this week, the Saudi military displayed wreckage of what it said were Iranian drones and cruise missiles, describing it as "undeniable" proof of Tehran's sponsorship of the attack. Iran has rejected all Riyadh's allegations, mocking the display and stating that "even the Saudis themselves don't believe the fiction of Iranian involvement."
Like this story? Share it with a friend!
You can share this story on social media: