'No power to negotiate'? Trump scraps Afghan talks after Taliban attack, hints at 'decades' more war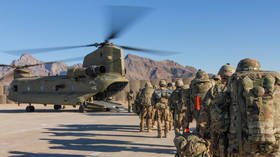 A blast in Kabul that killed a dozen people, including an American soldier, shows that there is no point in negotiating with the Taliban, who can't even uphold a ceasefire during important talks, President Trump says.
"If they cannot agree to a ceasefire during these very important peace talks, and would even kill 12 innocent people, then they probably don't have the power to negotiate a meaningful agreement anyway," US President Donald Trump said in a tweet, announcing his decision to call off peace negotiations and cancel the meeting with Taliban leaders scheduled for Sunday at Camp David.
How many more decades are they willing to fight?
....an attack in Kabul that killed one of our great great soldiers, and 11 other people. I immediately cancelled the meeting and called off peace negotiations. What kind of people would kill so many in order to seemingly strengthen their bargaining position? They didn't, they....

— Donald J. Trump (@realDonaldTrump) September 7, 2019
The Taliban currently controls more territory than ever since the US invasion, having launched fresh assaults in the north. It also took responsibility for two major blasts in the capital, Kabul over the past week, one of which killed 12 and claimed the life of a Puerto Rican-American soldier, bringing the number of US troops killed in Afghanistan to 16 this year alone.
Also on rt.com
Taliban launch massive attack on Kunduz as peace talks with US continue
While many praised the US leader for his refusal to 'negotiate with the terrorists', some raised doubts over who exactly calls the shots, especially since it was already known that Afghanistan's president, Ashraf Ghani, won't be coming to Washington.
Some of Trump's followers called him out over Washington's own history of not standing by any 'meaningful agreements', while others said the nearly two decades of fighting and blood spilling in Afghanistan was already more than enough.
The Taliban could give a damn less what America thinks or wants. They want American occupation ended. 20 FUCKING YEARS! How long before America learns what Russia's experience in Afghanistan was, if they had bothered to pay attention! We shouldn't be there!

— SageWithAge (@SageWithAge) September 7, 2019
At the same time, many seemed shocked that the president even considered holding "secret talks" with the Taliban just ahead of the anniversary of the 9/11 attacks which the US used to justify the invasion of Afghanistan and the perpetual war on terrorism ever since.
Also on rt.com
Putin warned Bush about impending attack TWO DAYS before 9/11 – ex-CIA analyst
Puzzled by what Trump's plan might be, his Twitter followers argued over whether he wants to use the move as a pretext to stay – or to pull out of Afghanistan entirely and leave the weakened government in Kabul to sort out the mess on its own.
Also on rt.com
American service member killed in Afghanistan as Trump vows US will 'always' stay there
Like this story? Share it with a friend!
You can share this story on social media: