'End of Western hegemony': Why does Macron want Russia at Europe's side?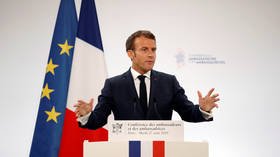 French President Emmanuel Macron has warned Western nations against the "strategic mistake" of alienating Russia – but in doing so, he seeks a bigger role for himself in international politics.
"We are living the end of Western hegemony," Macron told diplomats on Tuesday, after hosting the G7 meeting in the city of Biarritz on France's Atlantic coast over the weekend. He named the rise of Beijing and Moscow as signs of a shift on the world scene.
Pushing Russia away from Europe is a profound strategic mistake.
President Macron went further, even saying that the main problem in the world is no longer Russia but instead the United StatesOp-ed by John Laughlandhttps://t.co/DzdF0khoh0

— RT (@RT_com) August 20, 2019
Pushing Moscow into Beijing's arms?
"We're either pushing Russia into isolation, which increases tensions, or to ally itself with other major powers like China, which would not be in our interest," Macron said, calling for the "rethinking" of relations with Moscow. Otherwise, Europe will be stuck with being "a theater for strategic struggle between the US and Russia."
Also on rt.com
Is Europe coming around to Putin's Munich warning, or is this yet another false dawn?
France has long feared a Russia-China alliance, believes Evgeny Osipov, a senior fellow at the Institute of General History of the Russian Academy of Sciences. What has changed recently is the nature of relations between Moscow and Paris. Macron's rhetoric has somewhat softened in recent months – to the point that during talks with Russian President Vladimir Putin last week, he vowed to do his best to rebuild trust between Russia and the EU.
The ties have "stabilized" over the past two years, Osipov, a PhD in history, believes. "Moscow and Paris openly state their differences … yet, they are now ready to gradually promote dialogue and move forward towards full normalization of relations," he said. Macron even called Russia a "deeply European" country with a future "tied" with the rest of Europe.
Also on rt.com
'New rules of trust & security': Macron wants EU ties with Moscow independent of NATO & US
All that does not necessarily mean Macron's actions are driven by a pure desire to see Russia return to the "family." It might be more about the balance of power, according to Osipov.
France is itself very active when it comes to relations with China, the historian explained. What Macron cares about is that neither China nor Russia or the US become too powerful too soon – and an alliance between Moscow and Beijing is most likely to tip the scales.
New de Gaulle?
However, there might be more to Macron's call for rapprochement with Moscow. He might be seeking ways to cement his position as a European leader – something he has arguably been craving since he took office.
"Two years ago it was just a dream. Now, it is within reach," Osipov said. With German Chancellor Angela Merkel facing mounting pressure at home and the UK's authority in Europe shaken by Brexit, France might yet emerge as the most stable – and the most powerful for that matter – of the European political grandees.
Also on rt.com
Trump would 'certainly' invite Putin to next G7 summit
As he strives for this desired status, Macron seems to be trying to mimic France's iconic leader – Charles de Gaulle, who sought to keep the balance between the West and the Socialist Bloc in the 1960s. Now, Macron wants France to become a "bridge between the West and Russia," Osipov said.
His role is unlikely to be limited to mediation, though. Macron apparently wants to take the lead in shaping the West's – or at least Europe's – policies, and he has already taken it upon himself to point out their mistakes:
The world order is being shaken like never before.
"It's being shaken because of errors made by the West in certain crises, but also by the choices made by the United States in the past few years – and not just by the current administration."
These "choices" are impacting "the conflicts in the Middle East and elsewhere, making it necessary to rethink military and diplomatic strategies," the president noted.
Think your friends would be interested? Share this story!
You can share this story on social media: