Pakistani army ready go to 'any extent' to support Kashmiris – chief of staff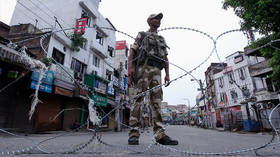 Islamabad's military says it's ready to go to "any extent" to support the "struggle" of people in the disputed Kashmir region, after India's President Ram Nath Kovind signed a decree revoking Kashmiri autonomy.
On Monday, India's government, led by Prime Minister Narendra Modi, moved to end the decades-long self-governing status of the Indian-controlled part of Kashmir. The decision was blasted by Pakistan, which considers the whole of Kashmir as its territory.
Chief of Army Staff General Qamar Javed Bajwa said the military will never recognize the effort by India to "legalize its occupation" of Kashmir.
Pakistan Army firmly stands by the Kashmiris in their just struggle to the very end. We are prepared and shall go to any extent to fulfill our obligations in this regard.
Also on rt.com
Better call Trump? Pakistan's options limited after India strips autonomy of disputed Kashmir
The Indian-administered part of Kashmir is the state of Jammu and Kashmir (J&K). Its special status is enshrined in Article 370 of the Indian constitution. J&K currently enjoys a high degree of autonomy in its domestic affairs and only its recognized citizens can purchase land there.
The ruling Bharatiya Janata Party (BJP) says that stripping J&K of its special status will allow for it to be better integrated with the rest of India. Home Minister Amit Shah said that axing the autonomy will also help to weed out militants in the region.
Article 370 was the root of terror in Jammu and Kashmir. It is time for it to go… If it doesn't go today, we can't remove terrorism from Jammu and Kashmir.
Amid fears of violence, travel restrictions and a ban on rallies were imposed in some parts of Indian-held Kashmir. There were reports of an increased presence of police and security forces.
Think your friends would be interested? Share this story!
You can share this story on social media: