1 killed by 'projectile,' 70+ injured after massive blast in ammo depot in Kazakhstan (VIDEO)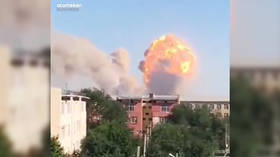 One person was killed and dozens injured after a powerful explosion rocked an ammunition depot at an army base in southern Kazakhstan, resulting in apocalyptic scenes of massive fire and smoke billowing from the site.
Footage from the scene shows black smoke rising up in huge, mushroom-shaped columns; while occasional blasts can be heard in the distance. Other clips show terrified people running away.
The fire at the base near the town of Arys started with a single blast on Monday morning, according to preliminary reports, before spreading and triggering more explosions.
More than 70 people were injured as a result of the blast, including two who were hospitalized with "firearm-related injuries," according to medical officials.
One person was killed by the blast. "The victim's car was hit by a projectile," local governor, Umirzak Shukeyev, told reporters.
An evacuation has been ordered. The local rescue services said they sent eight fire brigades to respond to the disaster.
Think your friends would be interested? Share this story!
You can share this story on social media: