'F*ck the international community, it can be bought': Filipino FM on South China Sea incident
Published time: 13 Jun, 2019 20:55
Edited time: 14 Jun, 2019 08:39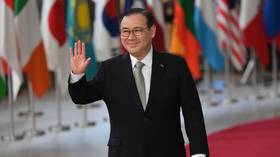 The Philippines' top diplomat is not interested in support from the international community when it comes to the dispute with China over the sinking of a boat in disputed waters of the South China Sea.
"F*ck the international community. It can be bought. This is our fight and in the end ours alone," Foreign Secretary Teodoro Locsin tweeted undiplomatically on Thursday, dismissing calls for international support.
He was responding to a comment from a user who suggested that the Philippines should present the situation to the international community and "ask friendly nations" for support.
A Chinese vessel reportedly rammed a Filipino fishing boat on Sunday and left its 22 crew members to fend for themselves. They were eventually rescued by a crew from a Vietnamese ship in the area. A Philippines military spokesman said the incident was "like a hit and run."
Also on rt.com
'The Chinese are coming': US attempts to turn the Philippines against its Beijing ally
Locsin's comments echoed the unfiltered style of President Rodrigo Duterte, whose spokesperson also dismissed the idea of seeking the support from other countries after the foreign minister's predecessor suggested taking a "multilateral approach" to the situation.
"He doesn't have to tell us what to do. We know what to do," the president's spokesman said.
The Philippines previously attempted to sue China for its island-building in the South China Sea, which Manila refers to as the West Philippine Sea.
In July 2016, the Philippines won a major international ruling which invalidated China's extensives claims over the South China Sea, but China has refused to accept the ruling and the Duterte government has not sought support from other countries to enforce it, despite complaining of Beijing's actions.
"I love China, it has helped us a bit, but it behoves upon us to ask, is it right for a country to claim the whole ocean?" Duterte asked last week. His spokesperson later said that Manila supports US-led action in the region that could limit China's influence.
Also on rt.com
US destroyer armed with missiles enters S. China Sea in challenge to Beijing's territorial claims
Think your friends would be interested? Share this story!