Iran says it rescued 44 sailors after 2 tankers were 'reportedly attacked' in Gulf of Oman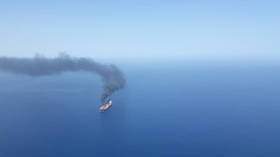 Iran says it has rescued dozens of sailors from two oil tankers that were reportedly attacked in the Gulf of Oman off the UAE coast on Thursday. One of the vessels was allegedly hit by a torpedo.
Tehran has said 44 crew members of oil tankers, identified as the Marshall Islands-flagged Front Altair and the Panama-flagged Kokuka Courageous, were brought to safety to the city of Jask in the southern Hormozgan Province.
Japanese shipping company Kokuka Sangyo –owner of the Kokuka courageous– confirmed its ship had been attacked. Company president Yutaka Katada told reporters that the vessel had been hit twice within three hours before all sailors were evacuated.
Also on rt.com
BURNING tanker filmed by Iran after 'attacks' in Gulf of Oman (VIDEO)
Frontline –the Norwegian shipping company that owns the Front Altair– confirmed its tanker was on fire but did not clarify whether it had been attacked or not. A report by shipping news service TradeWinds claimed that the Front Altair had been hit with a torpedo.
Images posted by the ISNA news agency apparently show one of the vessels with a huge plume of smoke rising into the air.
Details about the incidents are still unclear, but it is known that the tankers sent distress signals to ports and vessels in the vicinity, after two explosions were heard in the Gulf of Oman. Iranian rescuers were first to reach the ships, local media reported.
Both ships were carrying petrochemical products. The Kokuka Courageous carried 25,000 tons of methanol, while the Front Altair was carrying 75,000 tons of naphtha, a flammable hydrocarbon, Taiwan's state oil refiner stated.
Also on rt.com
Pompeo blames Iran for attack on tankers in Gulf of Oman
The United Kingdom Maritime Trade Operations said it was aware of an incident in the Gulf and urged "extreme caution." The US Fifth Fleet for its part also announced that it was "aware of the reported attack" and was "rendering assistance."
The incident took place during Japanese Prime Minister Shinzo Abe's visit to Tehran. The fact that the two vessels had "Japan-related cargo" on board was particularly sensitive, Iran's Foreign Minister Mohammad Javad Zarif noted. "Suspicious doesn't begin to describe what likely transpired this morning," he posted on Twitter.
Also on rt.com
Iran does not want war, but will defend itself from attack – Rouhani
The story comes after four oil tankers were attacked in UAE waters last month. The Emirates' authorities claimed it was a "sabotage" operation, later accusing an unnamed "state actor" of being behind it. The US has predictably pinned the blame on Tehran, with arch-hawk John Bolton alleging that Iran "almost certainly" used "naval mines" to target the ships.
However, exact details of the May incidents are shrouded in mystery. There is no information on casualties so far; moreover, local authorities denied reports of an explosion at an oil terminal in the Emirati port of Fujairah.
Iran, for its part, has strongly denied unsubstantiated accusations by Bolton, calling them "ridiculous." Earlier, the Foreign Ministry cautioned that the whole story could be a "conspiracy by ill-wishers."
Also on rt.com
Iran shouldn't be hastily blamed for Gulf of Oman tankers incident – Moscow
Like this story? Share it with a friend!
You can share this story on social media: