7 killed after tourist boat with dozens on board capsizes in Budapest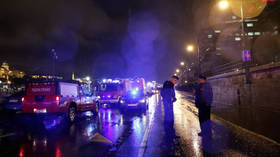 A rescue operation is underway after a tour boat with dozens of South Korean tourists on board collided with another vessel and sank on the Danube River in Budapest, Hungary.
Some 33 South Korean nationals and two Hungarian crew members were aboard the 'Mermaid' cruise when the ship collided with another vessel just outside the Parliament building in the Hungarian capital on Wednesday evening, the country's foreign ministry said.
Seven Koreans drowned in the incident, while 19 others are still missing, the ministry claimed. Local authorities also confirmed the number of casualties.
Rescue crews, including a fire department's boat, are on the scene as search for the others continues.
Think your friends would be interested? Share this story!