Huawei's 5G 'will absolutely not be affected' by US blacklist, founder says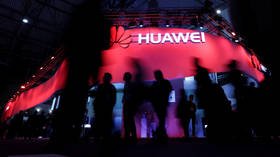 Huawei isn't going away just because the US government has tried to ban it from its markets, company founder Ren Zhengfei has said, declaring that the Trump administration "underestimates our strength."
"Huawei's 5G will absolutely not be affected" by the Commerce Department's ban on selling or transferring US technology to the company, Ren told Chinese state media. "In terms of 5G technologies, others won't be able to catch up with Huawei in two or three years."
The 90-day grace period before Huawei is officially blacklisted from doing business with US companies does not have much impact on the company, Ren claimed, adding: "We are ready."
A Huawei spokesperson assured reporters that nothing would change for US residents with Huawei devices, or even those planning to buy a device in the future – possibly because the Chinese firm is already in talks with Google on how to manage the ban.
Also on rt.com
Huawei has long been ready for US ban & won't bow to pressure, CEO says
Huawei has bracing for such a ban after the company watched fellow Chinese telecom ZTE struggle with a similar blacklisting maneuver last year. Unable to do business with US firms and unable to fill the equipment void itself, ZTE closed its doors for four months, throwing itself on the mercy of the US government and reopening its business more than $1 billion poorer. Not so for Huawei: not only has it been developing its own mobile operating system since 2012 to break dependence on Google's Android, but it already makes half the chips used in its devices.
"We cannot be isolated from the world," Ren boasted, adding that while Huawei was at odds with the US government, it was not the enemy of US companies.
While Trump's emergency order last week did not mention China or Huawei by name, it clearly targets both, giving the Secretary of Commerce the right to block any activity posing an "unacceptable risk to the national security of the United States or the security and safety of United States persons." The Commerce Department then moved to blacklist Huawei and 68 related companies from doing business with US firms.
Also on rt.com
China will 'embrace world' even more, Xi promises as US trade war escalates
The US has tried to convince its allies that Huawei is an unconscionable security risk, feeding information directly to the Chinese government through backdoors in its equipment. For its part, Huawei has accused the US of discrimination, claiming American telecoms cannot handle competition and pointing out the US' own record of backdooring allies' communications. Washington's efforts to convince the EU and its member nations to bar Huawei from their 5G networks have failed so far – although Australia has agreed to adopt such a ban.
The battle over Huawei reflects the ongoing trade war between the US and China. Both countries have slapped additional tariffs onto the other's exports after trade talks fell apart earlier this month, and Trump has threatened to dramatically expand the categories of goods taxed this summer.
Like this story? Share it with a friend!
You can share this story on social media: