China will 'embrace world' even more, Xi promises as US trade war escalates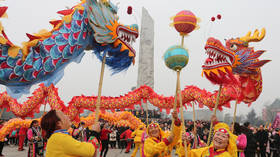 Chinese President Xi Jinping is preaching "openness" in an effort to make China look like a friendlier trade partner, as tensions over new tariffs with the US escalate.
China is an "open system" that has historically integrated Buddhism, Marxism and Islam, Xi said on Wednesday in his first public address since announcing higher tariffs on US imports.
Today's China is not only China's China. It is Asia's China and the world's China. China in the future will take on an even more open stance to embrace the world.
Xi's decision on Monday to raise tariffs on US imports came after President Donald Trump announced on Friday that he would impose increased levies on Chinese imports to encourage US businesses to invest in American production. China levied $60 billion of US goods, starting from June 1, after the US announced it would raise $200 billion on Chinese imports.
When the time is right we will make a deal with China. My respect and friendship with President Xi is unlimited but, as I have told him many times before, this must be a great deal for the United States or it just doesn't make any sense. We have to be allowed to make up some.....

— Donald J. Trump (@realDonaldTrump) May 14, 2019
Xi made no direct reference to trade tensions with the US in his speech at the forum in Beijing, which was organized by China's Publicity Department. Instead, he focused on improving trade relations with all. However, the Chinese leader did make an indirect criticism of Trump's isolationist "America First" policy. Xi claimed "no country can stand alone" and added that "civilizations will lose vitality if countries go back to isolation and cut themselves off from the rest of the world."
Also on rt.com
China fighting 'PEOPLE'S WAR' against US – state media on tariff hikes
The forum was intended to portray China's growing global power in a friendlier way, as Xi faces increasing pressure from the United States. The White House has expressed strong disapproval of China's Huawei 5G technology in Europe, which it suspects of spying on US intelligence. It has also criticized China's new trade route aimed at increasing its commercial presence in Europe, known as the Belt and Road Initiative.
Think your friends would be interested? Share this story!