Zelensky calls for ceasefire in Donbass and return of 'lost territories' in inauguration speech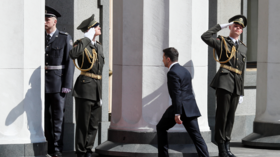 Volodymyr Zelensky has called for cabinet resignations and the return of "lost" territories after being sworn in as Ukraine's president. He said that he wants to negotiate peace in Donbass, even if it risks losing his post.
The comedian-turned-politician was inaugurated as Ukraine's president during a ceremony in parliament in Kiev on Monday.
In his inauguration address, Zelensky called on the Ukrainian parliament to fire the head of the country's security service, the prosecutor general, and the defense minister. He also said that Kiev will attempt to reclaim "lost" territories, and that any peace settlement in Donbass would have to begin with Ukrainian "captives" being returned from the East.
Also on rt.com
Ukraine's FM Klimkin resigns ahead of Zelensky's inauguration
"Our first task is to reach the ceasefire in the Donbass," Zelensky said in his address to the Ukrainian people from the rostrum of the Verkhovna Rada. He added that he isn't afraid of making "difficult decisions" in order to achieve piece – but would never surrender Ukrainian territory.
"I'm ready to lose my position without hesitation so that peace will come – without losing our territory, never."
Zelensky won a landslide victory against incumbent Petro Poroshenko, becoming Ukraine's youngest post-Soviet president.
Despite his electoral success, the comedian-turned-politician has yet to lay out a comprehensive platform for his administration.
Like this story? Share it with a friend!
You can share this story on social media: