Ukraine's FM Klimkin resigns ahead of Zelensky's inauguration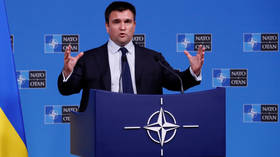 Ukrainian Foreign Minister Pavel Klimkin has tendered his resignation, he said in a video posted on his Facebook page on Friday. "As I have promised, I have just written my letter of resignation," he said.
Klimkin will send the letter to the Verkhovna Rada and to Ukrainian President-elect Volodymyr Zelensky after his inauguration on May 20.
The minister also announced his intention to run for the Ukrainian parliament, TASS reports. "I have a lot of different ideas and I hope to implement them, which is why I continue moving forward, I am going into politics, to the Verkhovna Rada," Klimkin said.