Sniper-killing journalist game pulled after outcry over 'Breaking News' mission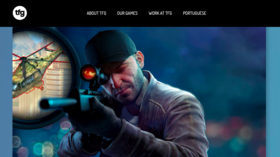 A popular sniper-mission video game encouraging players to assassinate a journalist has been pulled by its developer after media reports exposed the controversial shooting scene.
'Sniper 3D Assassin' was a free game on Apple devices as well as gaming platform Steam, and was available on Amazon, Google and Microsoft app stores.
New York Times journalist Jamal Jordan tweeted about the journalist killing mission after his nephew showed him the game.
The 'Breaking News' mission tells players to make a journalist "famous in a different way," by shooting them after they receive documents from a police officer. When the mission ends, the screen reads, "That's a cover story."
My nephew let me play an iPad shooting game with him. He chose the mission: It's called "Breaking News," and the objective is to shoot a journalist who just received documents from a police officer. The goal is to make the journalist "famous in a different way." pic.twitter.com/nQy4Hzq97r

— Lil Uzi Hurt (@lostblackboy) May 18, 2019
Revelations about the journalist murder mission game were received with horror on Twitter, especially by media workers.
Well, this is horrifying.

— Lauren Hard (@laurenhard) May 18, 2019
Holy crap. What "game" is this?

— Elijah Nouvelage (@wanderinghome) May 18, 2019
Whoa?!?Not very comforting since some of my reporter friends have been shot at recently.

— Sergio Quintana (@svqjournalist) May 19, 2019
What the hell

— Meghann Farnsworth (@mtfarnsworth) May 19, 2019
May 18, 2019
This is so frightening. Instead of this being an app for kids, it should be a reminder for adults to pay attention to hidden politics and make changes by informing our children to be responsible citizens.

— QatarIn MyHeart (@QatarIn_MyHeart) May 19, 2019
Developers from TFG Co. pulled the game after it was contacted by the HuffPost, insisting it had been "fictional" and intended for "mature audiences."
"At TFG, we work to create games that bring fun and entertainment to users all around the world," CTO Mac-Vicar said. "As such, we take feedback from our players very seriously. After listening to our community today, we have decided to remove the mission 'Breaking News' from the game."
Also on rt.com
Mortal Kombat video game so violent 'developer was diagnosed with PTSD'
The game was released in 2014 and had 10 million downloads in its first month. At one stage in 2016 it was the most downloaded game on Apple's App Store.
Like this story? Share it with a friend!