US warns airlines risk 'miscalculation or misidentification' over Persian Gulf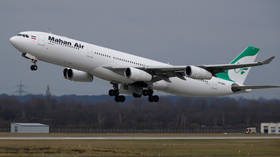 In a chilling reminder of the downing of Iran Air flight 655 by a US missile, an FAA notice said civilian aircraft flying over the Persian Gulf and the Gulf of Oman are currently at risk of "miscalculation or misidentification."
A Notice to Airmen (NOTAM) published by the US Federal Aviation Administration (FAA) late on Thursday said the risk stems from "heightened military activities and increased political tensions" in the area. Airliners operating in the region may also "encounter inadvertent GPS interference and other communications jamming" the warning said.
The tension in the proximity of Iran comes as the US deployed additional military assets in the region, including an aircraft carrier strike group and a battery of Patriot anti-aircraft missiles. Washington said it was a response to an undefined threat posed by Iranian forces. The US also withdrew non-essential personnel from diplomatic missions in Iraq. The show of force was reportedly triggered by intelligence provided by Israel.
Also on rt.com
Ominous message? US shows B-2 stealth bomber drop bunker busters amid Iran tensions (VIDEO)
For some, the FAA warning may bring back the dark memory of the 1988 incident, in which an American guided missile destroyer shot down an Iranian airliner, killing 290 people on board. It happened two months after the US sunk an Iranian frigate and a gunboat in retaliation for an incident a few days earlier, in which a US warship struck an Iranian mine.
Washington said the crew of the USS Vincennes misidentified Iran Air flight 655 for a warplane trying to attack the warship and acted in self-defense. The government rejected accusations that US military service members had acted recklessly, with President George H.W. Bush infamously declaring: "I will never apologize for the United States – I don't care what the facts are... I'm not an apologize-for-America kind of guy."
The US did pay compensation to the families of the victims, but never accepted legal liability or apologized to Tehran.
Think your friends would be interested? Share this story!
You can share this story on social media: