'Islamic beer mats': German town takes heat after controversial 'integration initiative'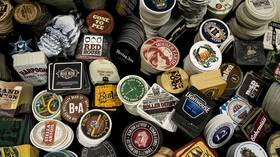 Local authorities in a small town in the German state of Hesse have found themselves in hot water after they sought to promote integration using questions about Islam in a local dialect … written on drink coasters.
Early this year, the community of Maintal joined an integration initiative aimed at starting a discussion about Islam and helping people overcome prejudices. Yet, the town authorities apparently got more than they bargained for.
Also on rt.com
'Muslim for German chancellor? Why not?' Remark by senior MP in Merkel's party triggers backlash
In an attempt to bring the locals and the Muslim community closer, they distributed thousands of beer mats featuring questions about Islam written in a local German dialect. The cardboard drink coasters adorned with the symbols of Hesse had such questions written on them as "Do footballers eat nothing at all during Ramadan?" or "Mohammed – who is this guy?"
Those, who were interested in finding the answers to these questions, were expected to use a QR code or a link printed on the mats to get to the city hall page, where a fictional character would provide them with the answers and some additional information.
It is unclear, whether the initiative launched in January has had any effect on the locals or helped them learn more about Islam. However, it certainly drew the ire of the local Muslim population, who said that they were offended by the fact that Islam was somehow mixed with alcohol, as Muslims do not drink precisely for religious reasons.
"This was not a good idea, they messed it up," Salih Tasdireck, the head of the local Foreigners' Advisory Council, said, criticizing the way the authorities chose to promote the "discussion about Islam."
"One could have done a promotional postcard campaign, a bus advertisement. Why did they have to go to a pub?"
The Turkish-born council chairman, who lived in Germany for almost 40 years welcomed the general idea of an interreligious dialog; yet, the council still slammed the campaign as "tactless" and "insensitive."
The city council dismissed the criticism by saying that the goal was to get people talking to each other. "I believe that there is a lot of misunderstanding and prejudice [against Islam] circulating [in the society]," Verena Strub, the Maintal integration commissioner, said.
Also on rt.com
Dutch city decides to 'diversify' street names because too many honor 'white Western men'
Yet, the Foreigners' Advisory Council doubled down, saying it was not even consulted before the initiative. "We were not asked, although we have close cooperation with the city hall," Tasdireck told Der Spiegel, adding that it is also not the task of local authorities to provide information on Islam.
The project was initially launched by a Freiburg-based Orient-Netzwerk association. Since 2016, it printed and distributed tens of thousands of drink coasters in several German states, including Hesse, Saxony and Baden-Wuerttemberg, where they apparently did not provoke much of a debate. The answers to the questions printed on the mats were prepared by a group of Islamic scholars and examined by the head of the Central Council of Muslims in Germany.
Think your friends would be interested? Share this story!