'We owe nothing': Poland brings up reparations from Berlin but says 'NO' to Jewish restitution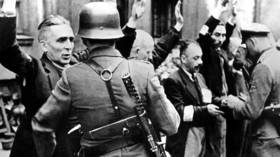 Warsaw has refused to compensate Jewish families for the property they lost during WWII, and said that Germany owes Poland up to a 'trillion' in reparations.
"The Polish position is firm and clear: we don't owe anything to anybody," the government's spokesperson, Joanna Kopcinska, stressed during an interview on a local radio station on Thursday.
Her comments were a rebuttal to groups like the World Jewish Restitution Organization (WJRO) who call for Warsaw to compensate Jewish families whose property was seized and looted during WWII. In February, the group's chair of operations, Gideon Taylor, blasted Poland as "the only country in the European Union" that does not have "comprehensive" restitution laws. The Polish government strongly opposes this, insisting that the issue had been settled and resolved long time ago.
Also on rt.com
Poland cancels Israeli visit over WWII property restitution row after mass protests in Warsaw
Debates over Jewish restitution flared up this week after Poland abruptly cancelled a visit by an Israeli delegation out of fear that they will raise the issue during planned talks. On Saturday, thousands of nationalists marched in Warsaw in protest against a 2018 American law that tasks the US State Department with monitoring how foreign nations deal with compensating Holocaust survivors and their descendants.
The Nazi attack on Poland on September 1, 1939 marked the beginning of WWII, and the country was the first one to fall victim to the Third Reich. Israel, however, has repeatedly accused the Poles of collaborating with the Nazis in committing the Holocaust, while Warsaw maintains that's not true. It has ultimately criminalized allegations of Poland's role in the Holocaust, outlawing the use of terms such as "Polish death camps."
While rejecting the restitution of Jewish property, officials of the ruling right-wing Law and Justice Party (PiS) have been vocal about their views that Germany should compensate Poland for its wartime devastation.
Also on rt.com
Poland may demand over $1 TRILLION in reparations from Germany over WW2 – Polish lawmaker
Speaking to supporters last week, the ruling party chief and co-founder, Jaroslaw Kaczynski, claimed that it is Poland that "should be paid," not the other way around.

"Some of our neighbors along the western borders owe us dozens, hundreds of billions of euros or dollars. Possibly, even more than a trillion," he said.
Think your friends would be interested? Share this story!
You can share this story on social media: