Poland cancels Israeli visit over WWII property restitution row after mass protests in Warsaw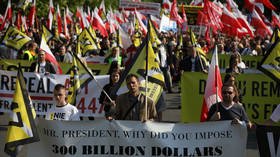 Warsaw decided to cancel a visit by an Israeli delegation at the last minute after it emerged that Tel Aviv planned to raise the issue of returning Jewish property that was seized during World War II.
The delegation was due to arrive on Monday but the trip was called off because "the Israeli side made last-minute changes in the composition of the delegation suggesting that the talks would primarily focus on the issues related to property restitution," according to the Polish Foreign Ministry.
Also on rt.com
'No obligations': Polish nationalists march against Holocaust compensation law (PHOTOS)
Warsaw maintains that the matter of property restitution has already been settled – a point of view apparently not shared by Tel Aviv and Washington.
On Saturday, thousands of people took to the streets of Warsaw to protest against US pressure on Poland to compensate Jews who lost assets during the Holocaust. American legislation known as the 447 law or the Justice for Uncompensated Survivors Today (JUST) Act requires the State Department to supervise the progress of countries including Poland on the restitution of Jewish properties seized during the Holocaust. Polish protesters against the legislation say it could ruin the country's economy.
Poland was once home to 3.3 million Jews, most of whom were murdered by Nazi Germany. Their properties were looted and later nationalized by the communist government.
Think your friends would be interested? Share this story!
You can share this story on social media: