Hollywood legend Doris Day has died aged 97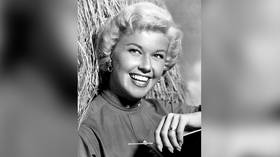 Hollywood icon Doris Day, who rose to fame in the 1960s and starred alongside silver screen giants such as Clark Gable and Cary Grant, has passed away at the age of 97, her foundation has announced.
Day ranks among the top female box office stars in American history, and was also an award-winning singer. She retired in her 50s to pursue her passion for animal activism and rescue.
She was the star of the hit 1959 comedy "Pillow Talk" and later made waves in films such as "Move Over, Darling" and "The Thrill of it All." Day is also known for her title role in "Calamity Jane" (1953) as well as her lead performance in Alfred Hitchcock's 1956 suspense thriller, "The Man Who Knew Too Much."
The actress received two stars on the Hollywood Walk of Fame, one for her film work and one for her music. Day's activism was recognized in 2004, when then-President George W. Bush awarded her the Presidential Medal of Freedom for her work on behalf of animal welfare.
She founded the Doris Day Animal League and later, the Doris Day Animal Foundation. The league continues to lobby on behalf of animal rights, while the foundation operates as an animal welfare charity.
This is how Doris Day herself described how she lived her life:
I like joy; I want to be joyous; I want to have fun on the set; I want to wear beautiful clothes and look pretty. I want to smile, and I want to make people laugh. And that's all I want. I like it. I like being happy. I want to make others happy.
Think your friends would be interested? Share this story!
You can share this story on social media: