Sweden to request Assange be extradited to stand trial on rape allegation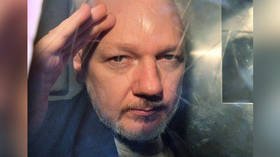 Sweden's Director of Public Prosecutions Eva-Marie Persson has confirmed that the country will seek Assange's extradition. She was announcing that the rape investigation against the WikiLeaks founder has been reopened.
The 47-year-old is currently being held at Belmarsh prison in London after he was found guilty of skipping bail and sentenced to 50 weeks in jail. He avoided extradition to Sweden for some seven years by seeking refuge in the Ecuadorian embassy in London in 2012, however he was unceremoniously evicted in April and now faces the prospect of extradition to face trial for the decade-old charges.
Also on rt.com
Swedish prosecutor reopens case probing Assange rape allegations
While some of the original charges have already expired under the Swedish statute of limitations, one key charge of sexual assault remains open until 2020. Swedish prosecutors had sought to bin the case as far back as 2013 but persisted with their inquiries until 2017 owing to pressure from the British government, according to WikiLeaks Editor-in-Chief Kristinn Hrafnsson.
Two years ago the case was closed as Swedish authorities "didn't see any possibilities to advance the investigation forward," however, in light of Assange's recent arrest, the case and potential extradition to stand trial for it, are back on the table.
The United States is also seeking Assange's extradition on charges that he conspired with Chelsea Manning to hack a Pentagon computer and steal state secrets. Persson said that it is up to UK authorities whether the Swedish or US extradition requests take priority.
Also on rt.com
Rape allegations: TIMELINE and details of Sweden's case against Julian Assange
Kristinn Hrafnsson said that "there has been considerable political pressure on Sweden to reopen their investigation, but there has always been political pressure surrounding this case."
Hrafnsson added that, in his estimation at least, the "case has been mishandled throughout" after a Swedish prosecutor initially found that "no crime at all" had occurred, after which time the case was reopened.
A lawyer representing the woman making the allegation against Assange stressed the importance of prosecutors moving quickly because the statute of limitations is approaching next year.
"My client feels great gratitude and she is very hopeful about getting restitution and we both hope that justice will win," lawyer Elisabeth Massi Fritz said at a news conference.
Like this story? Share it with a friend!
You can share this story on social media: