Assange rape case politicized, 'mishandled throughout' says WikiLeaks Editor-in-Chief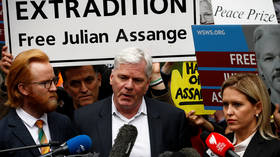 Following the Swedish prosecutor's decision to reopen the rape investigation against Julian Assange, WikiLeaks Editor-in-Chief Kristinn Hrafnsson has claimed that the "case has been mishandled throughout."
"There has been considerable political pressure on Sweden to reopen their investigation, but there has always been political pressure surrounding this case," Hrafnsson said in a statement Monday morning, following the announcement by Swedish authorities that the investigation against Julian Assange had been officially reopened.
Also on rt.com
Swedish prosecutor reopens case probing Assange rape allegations
Hrafnsson added that several key details surrounding the investigation were suspicious after a Swedish prosecutor initially found that "no crime at all" had occurred, after which the case was reopened at the behest of the British authorities.
The Icelandic WikiLeaks Editor-in-Chief told RT that any decision taken by UK authorities in terms of prioritizing the US or Swedish extradition request will be based on politics and not on achieving justice.
It will be a political decision first and foremost. Justice is long gone from anything when it comes to Julian Assange, he has no justice at all.
A Swedish prosecutor also refused to question Assange during his forced exile in the Ecuadorian embassy before eventually being impelled by the courts. Swedish authorities then sought to drop the arrest warrant as early as 2013, Hrafnsson claimed, adding that it was the British government that insisted that the case continue.
Also on rt.com
Rape allegations: TIMELINE and details of Sweden's case against Julian Assange
The investigation was then closed in 2017 only for it to be reopened shortly after Assange's arrest in 2019.
Hrafnsson also alleges that he has received reports of Swedish and British authorities destroying documents related to the case, though he did not provide any evidence. He also slammed media reports that Assange had eluded questioning throughout his time in London, insisting that "Assange was always willing to answer any questions from the Swedish authorities and repeatedly offered to do so, over six years."
Like this story? Share it with a friend!
You can share this story on social media: