Seeds of conflict: How US companies became the enemies of traditional Indian agriculture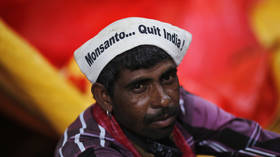 India's vast market has been lusted after by US corporations for years. Agricultural giants cultivate their own rules on this land of ancient farming traditions. However, India is a hard nut for the likes of Monsanto to crack.
Potato dispute
Most recently, snack giant PepsiCo has drawn the ire of the Indian farmers' unions and advocacy organizations by suing a group of farmers over an alleged infringement of intellectual property rights. Nine farmers in the state of Gujarat were supposedly growing a particular variety of potatoes, for which the US-based corporation has exclusive rights.
Also on rt.com
'Lay-off our spuds!' PepsiCo slammed for suing Indian farmers over potatoes
Although the company eventually decided to withdraw its lawsuits against the farmers following a public outcry, the incident has become just the most recent example of the Western corporations' attempts to reign in the world's second-biggest market in terms of the overall agriculture production levels.
PepsiCo was actually the one to allow some farmers in India's region of Punjab to grow its "exclusive" variety of spuds in the first place. But it did so on condition of a 100 percent buyback scheme. The problems began when it discovered that some other farmers started to grow the potatoes without the corporation's permission. The issue appears to be stemming from the fact that most seeds have been passed on in an informal way between farmers.
Attack on 'way of life'
Some farmers believe all those rights disputes are part of the corporations' attempts to make local producers dependent on their products. "These multinational giants always try to monopolize local markets," Ramesh Delampady, a farmer from South India, told RT.
Also on rt.com
'We will not bow to the giant': Indian farmers sued by PepsiCo reject any settlement
He believes this is all nothing but an assault on the traditional Indian ways of farm management. "Farmers … keep the seeds with themselves in India," he explained, adding that they constantly "try new methods, cultivation techniques in a hope to increase their profit" in a practice that makes them largely self-reliant.
Delampady believes that the corporations seek to "disrupt" this practice and make the farmers dependent on the imported seeds, even though their quality is often not adequate to the farmers' needs. The foreign companies' aspiration to make the Indian producers "to discard native seeds is the main problem," the farmer said.
Also on rt.com
PepsiCo ends lawsuits against Indian potato farmers
Quality of their seeds is not very good. Every year, [local] newspapers [publish] complaints about substandard seeds distribution. I have never heard about any company taking responsibility for that.
The corporations seek to break the very "ethics" of the Indian farmers, for whom agriculture is not just a way of generating profit but a "way of life." Unfortunately for PepsiCo, it seemingly would hardly succeed in its property rights crusade against the Indian farmers anyway, according to Delampady.
If the corporation is particularly insistent on its proprietary right, someone might introduce a similar variety of potatoes to the Indian market, he explained, adding that, even if it does not happen, farmers can still always return to other brands or indigenous seeds.
Hence as a nation India will keep an option open to reject or kick out PepsiCo at any time.
"Hold companies liable for their actions"
Unlike potato farming, where only a handful of producers entered into deals with big corporations, India's cotton industry almost witnessed monopolization by another foreign giant – Monsanto – in a series of developments that threatened to turn into a catastrophe for the national producers.
The US giant has been selling genetically modified cotton seed to India since 1998 and has, since then, established an absolute monopoly over the production of a specific pest-resistant cotton variety known as the Bt cotton in the country. Some 90 percent of India's cotton –11.8 million hectares of cotton fields– now cultivate Bt crops.
"Bt cotton was brought into India in the form of hybrid seeds, and not straight-line varieties where farmers can save their own seed and use it in the next season," Kavitha Kuruganti, an activist with the Alliance for Sustainable & Holistic Agriculture (ASHA), told RT, adding that straight-line varieties would mean lesser profits for Monsanto as the cotton producers could re-cultivate seeds without the need to constantly buy new ones.
The hybrid technology was used to ensnare farmers into dependency on an external seed market that supplies seeds season after season.
Decades of dependence on imported crop varieties have drastically affected the cotton production in India in a negative way. "In any farming community, it takes only two continuous years of not saving your own seeds to become dependent perpetually … on external seed suppliers," Kuruganti said. The Indian farmers "stopped saving seeds after hybrids entered the market and now, there are physically no cotton seeds available" for them.
Also on rt.com
EPA 'in bed' with Monsanto? Regulator ignores risks, affirms 'safety' of Roundup & Dow pesticide
As if it was not enough, the farmers, who borrow seeds at "high interest rates for cultivation costs" and are thus "desperate" to save their crops, are also forced to use potentially hazardous pesticides and herbicides like the controversial RoundUp, which are supplied by the same corporations. "No one tells them how to manage crops without using the chemicals," Kuruganti, explained, adding that the farmers are often are left unaware of potential health risks or just have no other choice.

"Unlike in some other countries, India does not have a corporate accountability legislation to hold companies liable for their actions. We need one."
Disaster averted?
Yet, in April, the Indian authorities attempted to break Monsanto's monopoly on India's cotton market as Delhi High Court banned the St. Louis-based company from enforcing its patents on certain seed varieties.
The court still allowed the company to collect a trait fee but made it lose control of the plant's genetic material. The ruling also said Indian farmers can use Monsanto's know-how for future research and development of the cotton industry.
Also on rt.com
Monsanto challenges Indian court's decision that undermines its GMO cotton monopoly
While the decision loosens Monsanto's grip over the cotton market, it still leaves the situation somewhat in limbo as the agro-biotech giant could opt for leaving India's market altogether with the consequences of this move being hard to predict. For now, the US-based corporation appealed the court's decision.
RT has reached out to PepsiCo India and Monsanto for comment and is awaiting response.
Think your friends would be interested? Share this story!