Macron should leave 'like de Gaulle' if he loses European election – Le Pen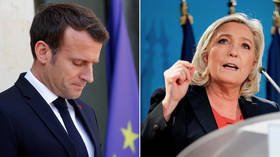 The French president should step down if his party does not prevail in the upcoming European Parliament election, National Rally chief Marine Le Pen says, as both political forces are tied ahead of the vote.
The election should be viewed as a referendum which may well seal Macron's fate, Marine Le Pen said this week as she spoke on national TV. The opposition politician also expressed hope that the president would have the "honor and dignity" to step down if faced with a defeat – just like General Charles de Gaulle, who resigned in 1946 after his Popular Republican Movement party lost the parliamentary election to the communists.
Under these conditions he should act like General de Gaulle: if he loses this election, he should go.
Le Pen's strongly worded statement came hours after Macron lashed out at her right-wing National Rally party, saying he will use "all his energy" to prevent it from winning.
"I'm a French patriot and a European. They are nationalists," he said, adding that Le Pen is looking for "the deconstruction of Europe."
Also on rt.com
50 years on, the world, and not just France, still misses Charles de Gaulle
Polls have Macron's centrist La République En Marche party neck-and-neck with Le Pen's right-wing National Rally. The president's party currently has 23 percent of the vote, with Le Pen's side just one percent behind. A recent study by the Bertelsmann Foundation has claimed that one in 10 Europeans will back right-wing and anti-establishment parties in the upcoming EU elections, pointing to growing support for Euroskeptic movements across the bloc.
Party ratings aside, Macron himself has seen his popularity plunge, with his approval rating now standing at 29 percent. When elected president in 2017, Macron garnered the support of 66 percent of the voters.
Also on rt.com
Right-wing parties gain highest voter approval ahead of EU elections – study
Macron's popularity took a big hit amid weeks of protests staged by the Yellow Vests movement, which saw tens of thousands rallying in Paris and across the country. The protests initially targeted government fuel price hikes but, despite the plans being dropped by Macron, ended up with demands for broader social changes and even the resignation of the president.
Like this story? Share it with a friend!
You can share this story on social media: