Pompeo arrives in Baghdad for surprise visit amid US-Iran tensions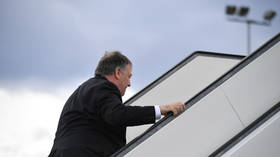 US State Secretary Mike Pompeo has unexpectedly arrived in Baghdad for an unannounced visit, AFP reported citing Iraqi government sources. Pompeo had scrapped his visit to Germany, citing unspecified "pressing issues."
Pompeo has reportedly met with Iraqi Prime Minister Adil Abdul-Mahdi. So far, no details of the surprise visit have emerged.
The development, if confirmed, explains the mysterious travel path of Pompeo's plane, that was spotted flying towards the Middle East region earlier on Tuesday. The plane was tracked up to the airspace above eastern Turkey, where it apparently turned off its transponder while approaching Iraq.
Also on rt.com
Pompeo snubs meeting Merkel & Maas citing unknown 'pressing issues'
Earlier in the day the US Secretary of State abruptly cancelled his visit to Germany, where he was scheduled to meet with Chancellor Angela Merkel and Foreign Minister Heiko Maas. The "rescheduling" was vaguely explained by emergence of unspecified "pressing issues." Before scrapping the Berlin visit, Pompeo attended a meeting of the Arctic Council in Rovaniemi, Finland, where he called the region "an arena of global power & competition."
Pompeo's visit to Iraq comes as the US has ramped up its military activities in the region, citing a threat of Iranian "attack." On Monday, the USS Abraham Lincoln carrier strike group set sail to the Persian Gulf, while at least four B-52 strategic bombers were said to be redeployed to the region.
Flexing the military muscle is needed "to send a clear and unmistakable message to the Iranian regime that any attack on United States interests or on those of our allies will be met with unrelenting force," according to US National Security Advisor John Bolton. While the "threat" is apparently imminent, Bolton gave no details on it.
Iran mocked the US over presenting the carrier group deployment as rapid and spontaneous, while it was actually announced weeks ago.
Also on rt.com
Old news: Iran mocks Bolton for using carrier deployment as 'psychological warfare'
Think your friends would be interested? Share this story!
You can share this story on social media: