US attempt to topple Venezuelan govt by force would lead to grave consequences – Lavrov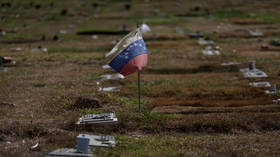 Washington's "irresponsible" plan to overthrow the Caracas government by force would result in a catastrophe, the Russian Foreign Minister Sergey Lavrov has warned, calling on the US to stick to the international law on Venezuela.
Lavrov denounced "an unprecedented campaign led by the US and aimed at toppling Venezuela's legitimate government." What Venezuela needs right now is political dialogue, not power grab attempts, the Russian minister said.
Attempts to stage a violent upheaval in Caracas have nothing to do with democratic process, and only disrupt any prospects of political settlement.
Only Venezuelans themselves can define the fate of their state, Lavrov said, as he called for "inclusive political dialogue."
Also on rt.com
'Any US action in Venezuela would be lawful': Pompeo drums up invasion option after failed coup
You can share this story on social media: