DNC contractor asked Ukrainian Embassy for dirt on Trump campaign, envoy confirms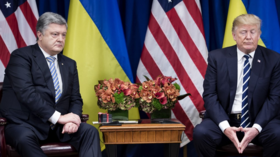 The Ukrainian ambassador to the US has confirmed that a Democratic National Committee (DNC) contractor attempted to get information on Donald Trump's campaign manager, Paul Manafort, to initiate hearings in Congress.
Alexandra Chalupa, a self-described human rights activist, approached the mission in 2016 showing interest in Manafort's case. The ambassador, Valery Chaly, said in written answers to the Hill that his office was unaware of her connections to the DNC at the time and knew Chalupa "because of her engagement with Ukrainian and other diasporas in Washington D.C."
"All ideas floated by Alexandra were related to approaching a Member of Congress with a purpose to initiate hearings on Paul Manafort or letting an investigative journalist ask President Poroshenko a question about Mr. Manafort during his public talk in Washington, D.C.," the ambassador said. He insisted that the embassy refused to get involved in the US election.
Also on rt.com
Trump-Russia dominates headlines, but there's more evidence of collusion between Democrats & Ukraine
The statement differs from what the mission claimed in 2017, when Politico ran an investigative piece about Kiev's attempts to sabotage the Trump campaign. Back then, the embassy said Chalupa was organizing an event supporting female Ukrainian leaders.
Chalupa called the article in the Hill a "hit piece," ordered by Trump and his lawyer, Rudy Giuliani.
More Trump/Giuliani strong-arming of Ukraine officials to get them to help with bogus hit jobs on Trump/Manafort's opponents. Here's a fact: Andrii Telizhenko who planted this story and Vogel's Politico piece. I reported him to the FBI in 2016https://t.co/rbEEXMPOmh

— Alexandra Chalupa (@AlexandraChalup) May 3, 2019
However, Chalupa's ties to the DNC – and her efforts to dig up dirt on the Trump campaign – are a matter of public record.
Federal Election Commission (FEC) records reveal that Chalupa's firm, Chalupa & Associates, was paid $71,918 by the DNC during the 2016 election cycle.
In a May 2016 email released by WikiLeaks, Chalupa wrote to the DNC that she had met with 68 Ukrainian investigative journalists to talk about Manafort. She also noted that she invited American reporter Michael Isikoff to speak with her. Isikoff is credited as being the first journalist to report on the contents of the infamous and unsubstantiated Steele dossier. In fact, his article for Yahoo News was cited by the FBI to obtain a warrant to snoop on Trump campaign adviser Carter Page.
"A lot more coming down the pipe," Chalupa wrote.
Less than a month later, Manafort was forced to step down as Trump's campaign chairman, after his consulting activities in Ukraine were leaked to the media.
While the media attention was focused on Russian meddling and collusion for over two years, traces of Ukrainian interference received less attention even though they are rather thick.
A Kiev court ruled that two Ukrainian officials violated the law and attempted to interfere in the US election when they published documents detailing payments Manafort received from the former Ukrainian president.
One of these officials, lawmaker Sergey Leshchenko, provided information to Fusion GPS – the company hired by the Clinton campaign that commissioned the Steele dossier.
Like this story? Share it with a friend!
You can share this story on social media: