Bolton calls on Venezuelan military to 'protect the constitution' by backing Guaido coup attempt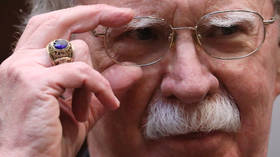 US National Security Advisor John Bolton called on Venezuela's military to side with Washington protégé Juan Guaido, after the opposition leader declared a military coup in Caracas on Tuesday.
Bolton, one of the leading US figures in the operation to topple the Venezuelan government, called on Defense Minister Vladimir Padrino to side with Guaido, claiming this would protect Venezuela's constitution.
.@vladimirpadrino: The FANB must protect the Constitution and the Venezuelan people. It should stand by the National Assembly and the legitimate institutions against the usurpation of democracy. The United States stands with the people of Venezuela.

— John Bolton (@AmbJohnBolton) April 30, 2019
Padrino earlier rejected Guaido as a traitor and said on Twitter that the national armed forces (FANB) were loyal to the legitimate President Nicolas Maduro.
Also on rt.com
Venezuelan defense minister says army stands with President Maduro, denounces Guaido as traitor
Guaido, the US-backed self-proclaimed 'interim president' of Venezuela, announced on Tuesday morning that the time for decisive action against the Maduro government has come and showed a group of people in military uniform standing by his side.
The government said only a small number of 'traitors' were supporting Guado's 'attempted military coup' and promised to take control of the situation.
READ MORE: 'Traitor troops' stage coup attempt in Venezuela – VP
The opposition figure claimed to be the leader of Venezuela in January, declaring its elected president a 'usurper.' Washington immediately recognized him as such, as did US regional allies. The US has treated Guaido as if he were the actual leader of the country, allowing him to seize US-based assets belonging to Venezuela, appoint 'officials,' and otherwise act in an 'official' capacity.
The US has also provided a shipment of 'humanitarian aid' for Guaido's people to take across the Colombian border into Venezuela, and supposedly distribute it to the local population in a bid to gain some popularity. The attempt was rejected by international relief organizations as a politicized publicity stunt, and ultimately failed when border guards wouldn't take Guaido's site and stopped the trucks.
Subscribe to RT newsletter to get stories the mainstream media won't tell you.
You can share this story on social media: