'Traitor troops' stage coup attempt in Venezuela – VP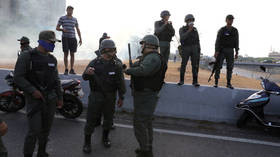 A group of Venezuelan soldiers seized part of a Caracas neighborhood in support of a right-wing coup, the country's vice president said after the opposition's self-proclaimed 'interim president' declared a military uprising.
Vice President Jorge Rodriguez said on Twitter that "a small group of traitor troops" have positioned themselves in the Altamira neighborhood "to promote a coup" against the government. He said the government was acting to counter them and called on people to stay vigilant in the face of this new development.
Earlier Juan Guaido, the US-backed opposition leader who declared himself the legitimate head of Venezuela, called for a military uprising against President Nicolas Maduro. Speaking in a three-minute video, which showed him against the backdrop of several people in military uniforms, Guaido said the time has come for decisive action.
Altamira neighborhood is located not far from the La Carlota Air Base, close to where Guaido apparently shot the video.
Also on rt.com
US-backed Guaido calls for Venezuela military uprising in VIDEO of him surrounded by soldiers
Meanwhile Venezuelan Defense Minister Vladimir Padrino said the military remained loyal to the Maduro government and rejected Guaido's claim that the army was on his side.
Guaido, a previously little-known opposition leader in Venezuela, declared himself the country's 'interim president' in January, claiming that President Maduro had usurped power and was no longer legitimate. His claim for the presidency was quickly recognized by the US and its regional allies.
However, subsequent attempts to slot Guaido in as the top man in Caracas were mostly unsuccessful. In February, he and his people attempted to force a delivery of what was called US humanitarian aid from across the border with Colombia. The stunt failed as border guards refused to side with the opposition and, instead, confronted them with tear gas. International humanitarian organizations refused to take part in the operation, saying it was not a genuine effort to bring a relief to Venezuela.
Think your friends would be interested? Share this story!
You can share this story on social media: