'Until it's wiped from memory': Polish MP blasts Germany over shirking issue of WWII reparations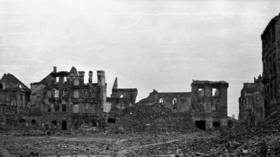 Berlin is hoping to shun its responsibility in paying billions of dollars in war reparations until the legacy of the Nazi's occupation of Poland fades from memory, a senior member of Poland's ruling party claims.
Arkadiusz Mularczyk, who heads Poland's parliamentary committee on reparations, blasted Berlin for playing what he called "diplomatic games" over the matter, in an interview with Reuters. The Law and Justice Party (PiS) member added that Germany was trying to have the matter "swept under the rug… until it was wiped from the memory, from people's awareness."
Mularczyk argued that, as well as losing millions of citizens during WWII, the country was destroyed "in an unusually brutal way" during the Nazi occupation, which lasted from 1939-45. He suggested the government could seek as much as $850 billion in compensation. A report on the issue is expected to be filed by the reparations committee on September 1, the 80th anniversary of the Nazi invasion.
Also on rt.com
'Poles collaborated with the Nazis': Netanyahu reignites Holocaust spat with Poland in Warsaw
The issue of war reparations has been on the agenda of the right-wing PiS government since it was elected in 2015. While Warsaw has yet to demand fresh reparations from Germany, it is likely to feature as part of the party's agenda ahead of next month's European Parliamentary elections. Mularczyk had previously suggested in the Polish press that Brussels would be the appropriate forum "where the matter can and should be internationalized."
Also on rt.com
Merkel 'inspects the desert she made': Varoufakis slams German chancellor's visit to Greece
Poland's renewed drive for fresh reparations for German war crimes follows a similar demand made by Greece. Earlier this month parliamentarians in Athens voted in favor of launching a diplomatic campaign seeking billions of euros in compensation for Nazi occupation.
However, Germany has regularly dismissed such demands, arguing that the "justificatory basis" has been lost due to the length of time which has passed.
Think your friends would be interested? Share this story!