US coalition killed 1,600 civilians in Raqqa offensive - Amnesty International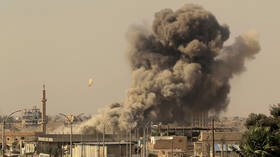 The US-led assault on the Syrian city of Raqqa in 2017 killed over 1,600 non-combatants, more than 10 times the coalition's own estimate, according to an investigation by Amnesty International and Airwars, a conflict monitor.
"Our conclusive finding after all this is that the US-led coalition's military offensive (US, UK and French forces) directly caused more than 1,600 civilian deaths in Raqqa," the groups said in a joint statement about their 18-month investigation.
Their results were published on a website entitled 'Rhetoric versus reality in the war on Raqqa'.
Islamic State (IS, formerly ISIS) controlled Raqqa from 2014 to 2017, and "had turned the city into a death trap," with snipers and mines, said Amnesty's senior crisis response adviser, Donatella Rovera.
"Many of the [coalition's] air bombardments were inaccurate and tens of thousands of artillery strikes were indiscriminate, so it is no surprise they killed and injured many hundreds of civilians," she said.
The US-led coalition previously described its siege on Raqqa, which lasted five months, as the "most precise air campaign in history," and in a recent statement acknowledged that it killed 1,291 civilians for all operations in Syria and Iraq, between 2014 and 2019.
The official figure is well below what Amnesty and Airwars estimate for the single operation in Raqqa, while Airwars, in a separate study, estimated the true overall total could be as high as 28,000 civilian fatalities.
Also on rt.com
Over 1,200 corpses unearthed in Raqqa mass graves, US still in denial about massive casualties
The groups documented probable violations of international humanitarian law in some cases, and called for the creation of a fund to compensate the families of the victims, as well as better accounting of civilian casualties.
"The Coalition needs to fully investigate what went wrong at Raqqa and learn from those lessons, to prevent inflicting such tremendous suffering on civilians caught in future military operations," said Airwars director Chris Woods.
Raqqa for three years served as Islamic State's de facto capital city. In both Raqqa and Mosul – the group's hub in Iraq – protracted, bloody siege campaigns were required to dislodge the militants from their strongholds. Both cities were nearly flattened in the operations.
For more than a year after the coalition's operation concluded, residents of Raqqa were left to pick up the pieces, repairing the city's bombed out structures and extracting the remains of the dead from the rubble.
"In [these graves] there are people of all confessions," pathologist and first response worker Asaad al-Mashudj, told RT Arabic last year, describing the aftermath of the operation. "Militants, civilians, children, the elderly... They were from all parts of society. Some of them were killed in the fighting, some – from the airstrikes. Others were killed by snipers. All causes of death can be found here."

Subscribe to RT newsletter to get stories the mainstream media won't tell you.
You can share this story on social media: