'Vibrant democracy': US congratulates Ukraine on holding elections that reflect 'will of people'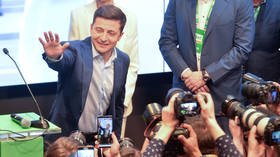 The US State Department has hailed Ukraine's presidential elections as "peaceful" and "competitive" as it congratulated comedian Volodymyr Zelensky on his victory and pledged "steadfast support" to Kiev.
Washington didn't mince its words and went out of its way to assure the new Ukrainian leader-in-waiting of its full support. "We look forward to working with President-elect Volodymyr Zelensky to advance our two nations' shared goal of a secure, prosperous, democratic, and free Ukraine," a statement issued by the State Department's spokesperson, Morgan Ortagus, said.
Also on rt.com
US & Europe react to Poroshenko's defeat by comedian Zelensky in Ukraine
The US also could not help but congratulate ordinary Ukrainians for holding elections, which, according to Washington, "reflect Ukraine's vibrant democracy" that managed to survive despite what the State Department called "years of unrelenting Russian aggression."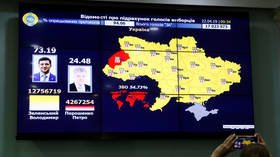 The State Department also snatched the opportunity to say that the outcome of the vote "represented the will of the people." The US wasted no time following the Ukrainian elections runoff, which was held on Sunday, as its embassy was the first to congratulate Zelensky on his victory following just the results of the exit polls at a time when only three percent of the ballots had been counted.
The State Department's statement also came before the official election results were announced by the Ukrainian Central Elections Commission, even though Zelensky's victory appears to be certain as he maintains a solid lead over his competitor, the incumbent president Petro Poroshenko, at a time when 99 percent of the ballots are counted.
Also on rt.com
Landslide victory: Early Ukraine election results show Zelensky's near 50-point lead over Poroshenko
In contrast to the US, Russia took a more reserved stance towards the new Ukrainian leader as it said it would wait for the final election results. "We must take into account that no official results of elections have been released yet," Kremlin spokesman Dmitry Peskov told journalists, answering questions about Zelensky's victory.
Moscow respects the choice of Ukrainians, Peskov said, while adding that the legitimacy of the vote was put into question by the fact that three million eligible Ukrainians living in Russia had been deprived of an opportunity to cast their ballots.
Think your friends would be interested? Share this story!
You can share this story on social media: