No to 'unilateral sanctions': Turkey slams US for ending waivers on Iranian oil imports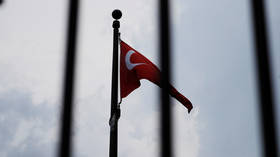 As Washington has renewed its push to bring Iran's oil exports "to zero" the US decision to lift special sanctions waivers for certain Iranian oil purchasers has drawn the ire of America's NATO ally - Ankara.
Turkey – one of the purchasers of Iranian oil, which had thus far enjoyed an exemption from the US sanctions – was clearly frustrated over the White House decision not to extend the waivers beyond May 2. Turkish Foreign Minister Melvut Cavusolgu didn't just criticize this move but even assailed US policies, vowing that Ankara would not let itself to be bossed around.
"The US decision to end sanctions waivers on Iran oil imports will not serve regional peace and stability, yet will harm Iranian people," Cavusolgu said in a tweet. The foreign minister went on to say that his country "rejects unilateral sanctions" as well as anyone telling it "how to conduct relations with neighbors."
The #US decision to end sanctions waivers on #Iran oil imports will not serve regional peace and stability, yet will harm Iranian people. #Turkey rejects unilateral sanctions and impositions on how to conduct relations with neighbors. @StateDept@SecPompeo

— Mevlüt Çavuşoğlu (@MevlutCavusoglu) 22 апреля 2019 г.
Earlier on Monday, the White House said that US President Donald Trump "has decided not to reissue Significant Reduction Exceptions (SREs) when they expire in early May." It also said in a statement that Washington once again intends to eventually "bring Iran's oil exports to zero" – something that the US threatened to do since it unilaterally withdrew from the 2015 Iranian nuclear agreement, with which Tehran was found to have been compliant.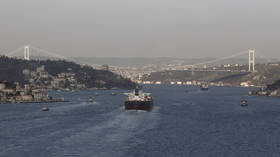 As the US re-imposed its sanctions against Iran following its withdrawal from the deal, it granted temporary import waivers to China, India, Greece, Italy, Taiwan, Japan, Turkey and South Korea, to ensure low oil prices and avoid disruption to the global oil market.
Also on rt.com
United States to end sanction waivers for countries importing Iranian oil
The latest US decision might exacerbate tensions between the two NATO allies, who are already at loggerheads over Ankara's purchase of Russian S-400 air defense systems. The $2.5 billion agreement Turkey signed with Russia back in 2017 did not sit well with Washington, which argued that the deal could compromise the security of its F-35 stealth fighters, of which Turkey is a program partner.
The US has put increased pressure on Turkey in attempts to make it abandon the deal and has even threatened its ally with sanctions. In early April, the US Senate Foreign Relations and Armed Services Committee warned that, by the end of the year, Turkey would have either the S-400 or the F-35. "It would not have both."
Ankara has consistently defended its choice of arms trade partners and said that, if the US cancels its own arms deals with Turkey, it will simply look for alternatives elsewhere. The Russian Defense Ministry has recently hailed Turkey's position, calling it "commendable."
"Such an active position of our Turkish partners is admirable. They have demonstrated real determination and resilience in the face of heavy pressure from the US," Russia's Deputy Defense Minister, Colonel General Aleksandr Fomin, told RT.
If you like this story, share it with a friend!
You can share this story on social media: