Bee sexual: Pornhub launches special channel to save the bees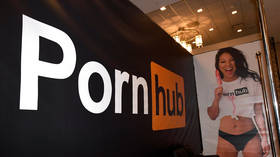 Pornhub's new channel affords users the opportunity to save the environment while browsing the adult website; for every minute of 'bee-sexual' video content watched, the company will make a donation to bee conservation efforts.
The video footage of bees getting down and dirty while pollinating flowers will be voiced by actual, human, pornstars like Brett Rossi, Dante Colle, and Domino Presley, among others, though there are no actual human boo-bees featured in the 'bee-sexual' genre.
According to a press release, Pornhub has partnered with leading bee conservation charities Operation Honey Bee and The Center for Honeybee Research on the bizarre but surprisingly heartwarming initiative. Reaction online has been overwhelmingly positive so far.
Without meaning to be a buzzkill, Pornhub points out that more than 700 North American bee species are headed toward extinction due to habitat loss and increased pesticide use with some "$235 billion worth of annual food production" relying on bees.
"With over 110 million daily visitors, we thought our users could come together to lend a helping hand and help conserve this precious species. It's our duty to ensure bees continue to fornicate and pollinate," Pornhub Vice President Corey Price said in a press release.
"Their sex LITERALLY saves humanity. If you ask me that makes for porn worth watching," Creative Director David Martin Angelus said.
Also on rt.com
PG Pornhub? New adult video channel proves an unexpected hit
The 'bee-sexual' initiative is just the latest endeavor by Pornhub Cares, the company's philanthropic division, which includes other campaigns like "Save The Whales," "Pornhub Blows," a campaign to provide free leaf removal service across the US and its Closed Captioning category content geared towards deaf and hard of hearing users.
It also introduced a PG category earlier this year.
Like this story? Share it with a friend!
You can share this story on social media: