Japan asks US troops to behave, not 'cause anxiety' after marine kills local girlfriend & self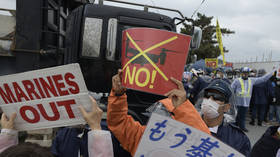 Japanese officials are imploring their American counterparts to control their soldiers' behavior at the Okinawa base after a US marine reportedly murdered his Japanese girlfriend – the latest in a rash of US-on-Japanese crime.
Defense Minister Takeshi Iwaya intends to ask US military leaders to enforce discipline in their ranks, he told NHK news agency, following an apparent murder-suicide in Chatan Town earlier this month, in which 32-year-old Marine Gabriel Olivero is thought to have stabbed his Japanese girlfriend to death before killing himself with the same knife.
Also on rt.com
US sailor involved in apparent murder-suicide in Okinawa
Iwaya will request that US forces take "thorough measures to prevent a recurrence and not cause anxiety among local residents," he told NHK. His words echo the restrained plea on Saturday of Vice Minister of Foreign Affairs Takeo Akiba, who begged US ambassador William Hagerty to protest the violence and enforce discipline among his men, after the bodies were discovered. Akiba solicited the envoy's cooperation in a probe of the deaths and his best efforts in preventing such a tragedy from recurring.
US soldiers were in turn admonished to "demonstrate solidarity with their Okinawan neighbors" in a letter sent on Sunday by Lieutenant General Eric Smith, chief of US forces in Okinawa and commander of US Marines in Japan, to unit leaders. They were warned the incident "has and will continue to cause strong feelings" and told not to go out on the day of the funeral.
Also on rt.com
Okinawa sweepingly rejects US base relocation… but who cares about referendums & democracy?
Tensions remain high between Okinawans and the approximately 27,000 US military personnel stationed on the island – about half of all the American soldiers stationed in Japan. Okinawans overwhelmingly rejected the opening of a new US military base in a remote area of the island in a February referendum, citing environmental damage in addition to the safety risk the base would pose to locals, but Tokyo plans to go ahead with construction anyway. US personnel in recent years have been implicated in crimes from drunk driving up to and including rape and murder, while the bases themselves contribute to pollution and other quality-of-life issues, according to locals.
Like this story? Share it with a friend!
You can share this story on social media: