US sailor involved in apparent murder-suicide in Okinawa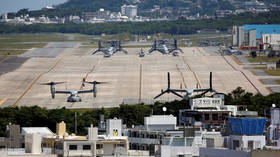 A US sailor stationed in Okinawa was found dead next to a local woman after an apparent murder-suicide, Japanese officials reported. The small southern island hosts roughly half of all American troops in Japan.
The US man, who was not immediately identified, was attached to III Marine Division, Stars and Stripes reported citing a military spokesman. The body of the 31-year-old was discovered on Saturday next to that of a woman in her 40s. The two were reportedly in a relationship, which ended with the sailor stabbing the woman to death before taking his own life.
The Japanese police reportedly found the dead pair in a six-story apartment building in the Kuwae district of Chatan, a town on the western coast of Okinawa. The police said the woman's child witnessed the incident when it happened in the early morning and called a relative, who in turn notified law enforcement.
"We are aware of an incident resulting in the death of an apparent US Navy sailor with III Marine Division and a resident of Okinawa," the spokesman, First Lt. David Mancilla said. "This is an absolute tragedy and we are fully committed to supporting the investigation into the incident."
The incident was discussed by Japan's Vice Minister of Foreign Affairs Takeo Akiba and US Ambassador William Hagerty during a phone call, the Japanese foreign ministry said as cited by Associated Press.
Also on rt.com
Okinawa sweepingly rejects US base relocation… but who cares about referendums & democracy?
Okinawa, the southernmost of Japan's bigger islands, hosts about half of the 54,000 US troops stationed in Japan while amounting to only 1 percent of the country's territory. For decades the military presence has been a major point of contention for local residents, who complain about things like environmental pollution, noise from aircraft operated by American bases and the danger posed by their flyovers.
US service members have also been involved in a number of high-profile crimes against locals, fueling anti-American sentiment. Tokyo shuns local authorities when they attempt to oppose the presence of American troops in Okinawa, saying it is necessary for national security.
Think your friends would be interested? Share this story!
You can share this story on social media: