Cancellation of Jair Bolsonaro's NY gala shows museums are next battleground for leftist protesters
Published time: 16 Apr, 2019 20:35
Edited time: 17 Apr, 2019 07:12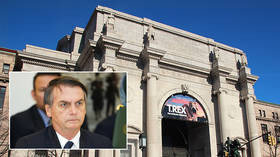 Run by opinion-sensitive urban elitists, museums make easy targets for campaigners who want to decide who can stage events there or give money. The humiliating disinvitation of the Brazilian president is a sign of things to come.
In what would be an international scandal in more diplomatic times, but is par for the course in this divisive political climate, the American Museum of Natural History (AMNH) this week canceled a traditional Brazilian-American Chamber of Commerce gala on May 14, where recently-elected president Jair Bolsonaro would have been awarded a prize for fostering relations between the two countries.
In a euphemistic manner that belies the bitterness that led to this moment, the museum tweeted that it was "not the optimal location for the event," two days after posting that it "wants to make it clear that the Museum did not invite President Bolsonaro; he was invited as part of an external event."
With mutual respect for the work & goals of our individual organizations, we jointly agreed that the Museum is not the optimal location for the Brazilian-Am. Chamber of Commerce gala dinner. This traditional event will go forward at another location on the original date & time.

— American Museum of Natural History (@AMNH) April 15, 2019
It was never firmly established specifically how the South American politician had violated the preeminent institution's ethos. Environmentalist campaigners complained about the clash between Bolsonaro's plans to intensify economic development in the Amazon, and the museum's active role in promoting green issues. A letter from staffers and patrons said the appearance would "negate the nominal efforts [the museum] has recently made to grapple with its legacy of colonial violence and racism."
But Bill de Blasio, the Clintonite mayor of New York, whose office is partially responsible for funding the museum, took a broader swipe, calling him "a very dangerous human being" for his "overt racism and homophobia" as well as his lack of environmental credentials.
Meanwhile, for many newspapers simply prefaced the Brazilian politician with the descriptor "far-right" and then the whole outcry needed no further explanation.
No-platforming at the taxpayer's expense
This is at least the third public pressure campaign targeting the AMNH alone in recent months. Earlier activists demanded that Rebekah Mercer, the Republican donor and part-owner of news website Breitbart be expelled from the board for giving money to climate change skeptics. There have also been calls to rename the wing of the museum named after David H. Koch, another high-profile Republican tycoon, who left the board of trustees in 2016.
Those who regard Bolsonaro – and possibly Koch and Mercer – as "far-right" will gloat at the high-profile and effective nature of these campaigns, which often require nothing more than several Twitter posts, and perhaps a stunt, such as putting provocative fake items in the gift shop (a tactic used against the Breitbart heiress).
Others should be wary of seeing another part of American life – after universities, schools and NFL fields – turned into a culture war battlefield.
Should publicly-funded institutions deny their space to those whose political views they do not share, and should their administrators become arbiters of who is an acceptable person to hire? Or worse than that politicians. In his criticisms, De Blasio insisted that he was in favor of the First Amendment, yet publicly urged the museum to refuse the event, knowing full well that its funding is partly in his hands. Not to mention that it sets a poor precedent that a local politician can sabotage the official visit of a foreign dignitary without sanction.
Also on rt.com
'Get me a printer, paper & glue!' Trump mocked over 'homemade' jersey gift for Bolsonaro
Would liberals be so sanguine if, say, Texas governor Greg Abbott used his political heft to put pressure on a local institution to cancel a reception for "dangerous socialist" Mexican president Andres Manuel Lopez Obrador. What about if he threatened to withdraw funding from a local museum if it didn't put up a display on creationism alongside evolution? It is the natural progression of the very same line of thinking, and this is a lose-lose game.
Where is the money going to come from?
And particularly not the museums themselves, who have recently been blackmailed not only into forcing out trustees, but refusing donations if their provenance doesn't satisfy people online. Most successful of these has been the campaign to ostracize the Sacklers, the family which owns the pharmaceutical company that produces OxyContin, the drug synonymous with the opioid epidemic, and funds many of the world's top cultural attractions.
Financing museums has always been a diplomatic tightrope that has required networking with a wide variety of (obscenely rich) potential donors.
The money – if not for maintenance, then for major renovations and acquisitions – will have to come from somewhere, and it is somewhat doubtful that the activists are prepared to crowdfund it themselves. Maybe Bill Gates and Jeff Bezos are "good" capitalists. What about Elon Musk? Mark Zuckerberg? How moral a person do you have to be before being allowed to become a philanthropist?
Also on rt.com
French billionaires pledge big donations to rebuild fire-ravaged Notre Dame
Would these do-gooders prefer it if right-wing and otherwise "unclean" billionaires did not donate to museums, and spent the money on yachts instead. Or perhaps buy art and display it in their own private collections for their other wealthy friends. Or maybe they want new, well-funded museums to open in less squeamish countries, perhaps in the famously liberal Middle Eas countries which are now operating a branch of the Louvre and some first-class institutions of its own.
But forget about all those questions, at least now the Brazilian-American Chamber of Commerce will have to hire a new venue, and that's all that matters here.
Igor Ogorodnev