Grounded 6 times in 4 months: Berlin crash-landing is latest woe to strike German govt fleet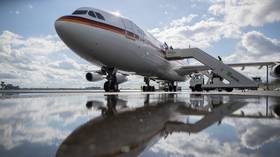 A German government plane crash-landed in Berlin on Tuesday, blocking the runway and causing airport delays as a growing list of technical faults plagues the official fleet.
The Luftwaffe's Global 5000 jet reportedly experienced technical issues shortly after take off on Tuesday and had a traumatic landing at Berlin's Schoenefeld airport. While no politicians were aboard, the crew was sent to hospital for unspecified injuries.
A spokesman for the German Air Force told AFP that the plane experienced a malfunction and after it turned back "the jet touched the ground with both wings and a controlled landing was no longer possible."
The incident is the latest embarrassing aviation incident for the German government which has seen its planes grounded six times in four months.
Merkel's delayed arrival
Last November, Merkel missed the opening ceremony of the G20 summit in Buenos Aires, when the Konrad Adenauer Airbus A340, flying her from Berlin, experienced electrical problems and was forced to divert to Cologne. The chancellor instead flew to the summit the following day on a commercial flight.
Also on rt.com
Merkel's plane breaks down, makes emergency landing on way to G20 summit
Maas' misfortunes
The Konrad Adenauer was given an overhaul following the embarrassing incident but on its first fresh outing at the beginning of this month, it blew a tire while landing in New York with Foreign Minister Heiko Maas on board. It meant Mass missed several appointments with the UN.
And that wasn't it for the minister's aviation woes as just weeks later Mass was left stranded in Mali due to a hydraulic problem with an Airbus A319's landing gear.
A trio of tired travelers
In January, German President Frank-Walter Steinmeier was stuck in Ethiopia thanks to more plane issues – something that he has experienced an unbelievable three times in three months.
Also on rt.com
German president stranded in Ethiopia as plane breaks down… again
Development Minister Gerd Mueller had to cancel a trip to Namibia at the start of the year because of problems with his plane. Mueller, clearly put out by the inconvenience, went on to say the incidents were damaging Germany's reputation as a high-tech nation and ruining the 'Made in Germany' brand.
Finance Minister Olaf Scholz recently had to stop to refuel in Iceland, while on a trip to the US, because the Konrad Adenauer was once again undergoing repairs and he had to travel aboard a substitute smaller plane which is not equipped for long distance journeys.
Think your friends would be interested? Share this story!
You can share this story on social media: