Towering inferno at Notre Dame Cathedral captured by police drone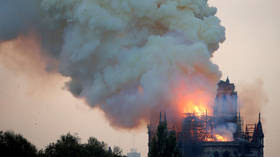 Photos of the conflagration at Paris' Notre Dame Cathedral taken by a police drone reveal the scale of the massive blaze at the historic church as firefighters work to bring it under control.
The images show flames engulfing almost the entire structure, as the roof appears to be entirely gone, and nothing remains of the cathedral's iconic central spire. The firefighters however remain optimistic that its two towers have been "saved."
The fire began earlier on Monday in scaffolding erected to perform repairs on the centuries-old church, which had been in poor condition for many years. Its cause is not yet known, though French judiciary police have already begun what is reportedly a criminal investigation. Over 400 firefighters are still battling to get the blaze under control.
A firefighter at the scene reportedly said workers' main focus is saving the priceless works of art contained in the cathedral and preventing the northern bell tower from collapsing.
Also on rt.com
Notre Dame towers 'saved' from the blaze, French firefighters hope
Think your friends would be interested? Share this story!