Libyan National Army jet shot down over Tripoli as Haftar visits Egypt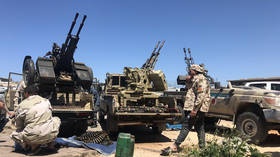 A warplane belonging to General Khalifa Haftar's troops has been shot down by forces loyal to the UN-backed government, its military spokesperson has claimed. It comes as Haftar is visiting the Egyptian president in Cairo.
The Libyan National Army's (LNA) fighter jet was downed on Sunday south of the capital of Tripoli, Colonel Mohammed Gnunu, Tripoli's military spokesman, confirmed without revealing any further details about the incident. Photos and videos that surfaced on social media appear to show the aftermath.
Photos reportedly taken just now in Qasr bin Ghashir show where a fallen plane has hit very close to the detention centre. #libya#tripoli "One jet hit by Khalifa (Haftar's) force now in front of our detention centre" - messaged an Eritrean there. pic.twitter.com/MU0VS9hOhi

— Sally Hayden (@sallyhayd) 14 апреля 2019 г.
Some of those who posted the images claimed that jet crashed in Tripoli's southeastern suburb of Ain Zara, while others said it fell in the town of Qasr bin Ghashir located south of the capital not far from the disused Tripoli International Airport. None of these reports could be independently verified.
The photos and videos showed plumes of grey and black smoke billowing in the sky in some deserted area. According to media reports, the pilot managed to eject from the jet before the crash. However, it is unclear whether he was captured by the GNA forces, as some reports on social media suggest, or managed to flee the scene.
Also on rt.com
Libyan National Army shoots down gov't plane near Misrata – spokesman
The incident took place as Haftar, who supports a Tobruk-based rival Libyan government and claims to control some 80 percent of the country's territory, met with the Egyptian President Abdel Fattah al-Sisi to discuss the developments in Libya.
This is the second reported military aircraft downing in Libya in less than a week. On April 10, the LNA spokesman told reporters that Haftar's forces shot down a military plane belonging to GNA over Tripoli. Conflicting reports have repeatedly emerged about strikes from both sides in the area near the capital.
Haftar's forces last week launched an offensive against militias supporting the GNA in the west of the country, calling them "illegal armed groups." Clashes have resulted in the cancellation of a UN-sponsored peace conference, which sought to negotiate a power-sharing arrangement between Haftar and the internationally recognized government of Prime Minister Fayez al-Sarraj, which controlled less than 8 percent of Libya's territory at the start of Haftar's offensive.
Also on rt.com
Only functioning airport in Libya's Tripoli hit by air raid - reports
Libya has been gripped by civil war chaos since 2011 when NATO-backed Islamist rebels overthrew and brutally killed the nation's longtime strongman Muammar Gaddafi. In wake of the new armed standoff, the remaining US forces in Libya pulled out from Tripoli.
Think your friends would be interested? Share this story!
You can share this story on social media: