Libyan National Army shoots down gov't plane near Misrata – spokesman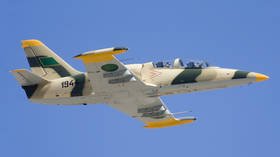 General Khalifa Haftar's Libyan National Army claims to have shot down a military airplane belonging to the Tripoli-based government of national accord (GNA) that took off from Misrata.
LNA spokesman Ahmed Mismari told reporters about the incident during a press briefing on Wednesday. He did not specify the type of the plane, just that it had taken off from the GNA-controlled Misrata and was shot down over Tripoli.
Unconfirmed reports indicate it was an Aero L-39 Albatros, a Czech-made training jet often used in a ground attack role.
Haftar's forces control almost 80 percent of Libya, and last week moved against militias supporting the GNA in the west of the country, calling them "illegal armed groups."
As LNA troops advanced, the remaining US forces in Libya pulled out from Tripoli. There were conflicting reports of checkpoints taken and lost, as well as air strikes by both sides in the area.
Also on rt.com
NATO bombing? How Libya's conflict can be resolved
Clashes have resulted in the cancellation of a UN-sponsored peace conference, which sought to negotiate a power-sharing arrangement between the LNA and the internationally recognized GNA of Prime Minister Fayez al-Sarraj, which controls less than 8 percent of Libya's territory.
Once the most prosperous country in Africa, Libya lapsed into chaos and civil war in 2011, when NATO backed Islamist rebels in overthrowing and brutally murdering the country's long-time ruler, Colonel Muammar Gaddafi.
Like this story? Share it with a friend!
You can share this story on social media: