WATCH chaotic scenes as police battle protesters in Yellow Vest 'capital' Toulouse on 'Act 22'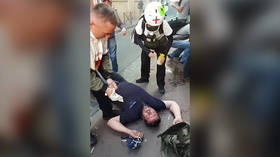 Footage shows riot police struggling to contain Yellow Vest protesters on the tear-gas-filled streets of Toulouse, France during clashes in which 43 people were arrested and more than a dozen were injured.
Sporadic clashes broke out in the French southern city of Toulouse of Saturday as it was declared the 'capital' of the Yellow Vest (Gilets Jaunes) protests that day. Footage filmed by video agency Ruptly shows people running in panic through thick clouds of smoke and tear gas filling the streets.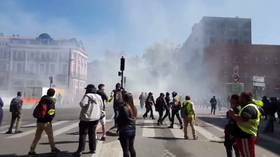 Protesters were coughing and covering their faces in an effort to avoid being gassed. Others kicked the gas canisters away, while some picked them up and hurled them back at officers. Volunteer medics could be seen rushing to treat a man lying on the pavement, who appeared to be unconscious.
Officers in full riot gear blocked several streets in attempts to hold off the Yellow Vests, some of whom tried arguing with the police.
During the clashes, the protesters threw stones, bottles, and firecrackers at the officers, who responded with tear gas and water cannon. Some 21 people were injured and 43 arrested in Toulouse during the day.
Also on rt.com
Yellow Vest Act 22: Clashes in Toulouse, Vikings in Paris
Think your friends would be interested? Share this story!