Beresheet 2: Netanyahu backs new Israeli lunar mission after 1st smashed into moon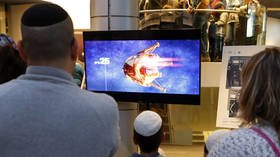 Benjamin Netanyahu has pledged state support for a new Israeli moon mission, just days after the country's first ever such project ended in disaster.
The Beresheet spacecraft smashed into the moon's surface on Thursday after a critical engine failure. So far, only three countries have successfully landed on the moon: the Soviet Union, US and China.
Also on rt.com
Israel fails attempted Moon landing as comm with spacecraft lost
Speaking on Sunday, the Israeli PM was full of praise for the mission, saying it had "put Israel into the history books" as one of seven countries to orbit the moon. "This is a tremendous achievement for SpaceIL, and we intend to launch Beresheet 2, which the state will also participate in building, proving our capabilities," he added.
The $100-million spacecraft was designed by SpaceIL, a private company, in cooperation with the state-owned Israel Aerospace Industries (IAI), and was launched via a SpaceX Falcon 9 rocket.
Netanyahu had visited the Beresheet control room in person for the anticipated landing. However, things went awry when a "technical glitch" during the landing approach sent the spacecraft barreling into the moon at about 500kph, according to the team behind the project.
Also on rt.com
Israeli team explains why Beresheet spacecraft CRASHED into the moon
Meanwhile, SpaceIL founder and president Morris Kahn revealed on Saturday that the organization would start its preparations for Beresheet 2 this weekend. If successful, it would be the first privately built spacecraft to land on the moon.
Like this story? Share it with a friend!
You can share this story on social media: