'This is about human rights': Fashion designer Vivienne Westwood slams UK over Assange arrest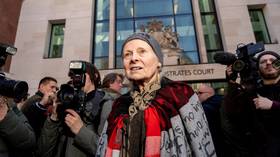 Fashion designer Vivienne Westwood has blasted UK authorities for "misrule of law" over the arrest of Julian Assange, telling RT video agency Ruptly she had spoken to the whistleblower just days ago inside the Ecuadorian embassy.
The British designer and activist, who is a friend of Assange's, told Ruptly that she saw Assange on Tuesday and was surprised to learn rumors of his impending arrest were true. Westwood said she had read in the press that Ecuador would not kick Assange out of the embassy, but said Assange told her during the visit that his removal was indeed imminent.
She said Assange told her Ecuador was in a "very weak" position and under "such strong pressure from America that they're just waiting to find an excuse and they will arrest me either tomorrow or definitely within two weeks. That's what he said to me on Tuesday," she said.
"This is about human rights, free speech and misrule of law by government, because what's at stake here. The issue is that Chelsea Manning and Julian [Assange] released American war crimes. Chelsea the whistleblower, Julian the publisher — and that's what this is about."
Westwood said she blames England for the situation, saying "England have kept him in that embassy trapped under total false pretenses" for years.
Assange was arrested by UK police on Thursday morning after spending nearly seven years in exile inside the Ecuadorian embassy before Quito withdrew his asylum and invited British authorities in to arrest him. Hours after his arrest, he was found guilty of skipping bail in London in 2012.
Assange also faces charges in the US relating to his contacts with fellow whistleblower Chelsea Manning, who released a trove of information to WikiLeaks in 2010 about US war crimes in Iraq.
Earlier on RT, Westwood said Assange was "one of the greatest heroes in the world."
If you liked this story, share it with a friend!
You can share this story on social media: