Netanyahu thanks Trump for designating Iran's Revolutionary Guards 'terrorists'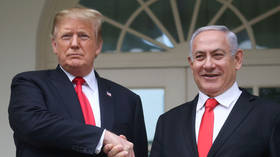 Israel's Prime Minister Benjamin Netanyahu has welcomed the US decision to label Iran's Revolutionary Guards a "terrorist organization" for allegedly financing and promoting terrorism in the region.
READ MORE: US designates Iran's Revolutionary Guards as terrorist organization – Trump
The US move was announced in a statement from President Donald Trump on Monday, stating that it "recognizes the reality that Iran is not only a State Sponsor of Terrorism, but that the IRGC actively participates in, finances, and promotes terrorism as a tool of statecraft."
Netanyahu took to Twitter to thank his "dear friend" Trump for answering "another important request that serves the interests of our country and the region."
Also on rt.com
Iran's FM recommends designating US CENTCOM as 'terrorist organization' in a reciprocal move
"We will continue to act together in any way against the Iranian regime that threatens the state of Israel, the United States and the peace of the world," the Israeli leader posted.
תודה לך ידידי היקר, נשיא ארה״ב דונלד טראמפ, על כך שהחלטת להכריז על משמרות המהפכה של איראן כעל ארגון טרור. תודה על שנענית לעוד בקשה חשובה שלי, שמשרתת את האינטרס של מדינותינו ושל מדינות האזור. נמשיך לפעול יחד בכל דרך נגד המשטר האיראני שמאיים על מדינת ישראל, על ארה״ב ועל שלום העולם.

— Benjamin Netanyahu (@netanyahu) April 8, 2019
Israel's Minister for Foreign Affairs and Intelligence Yisrael Katz also took to Twitter to praise Trump for the IRGC designation, saying it would "strengthen Israel's ability to fight Iranian aggression in Syria and space." He claimed the move would weaken Iran's ability to promote a nuclear program and its support for terrorism.
Netanyahu and Trump share a common interest in pursuing Iran, which they see as a threat to their interests. The US decision to label IRGC as a terrorist organization is the latest in a series of American moves welcomed by Netanyahu, following the US decision to recognize the occupied Golan Heights in Syria as Israeli territory last month, and its recognition of Jerusalem as Israel's capital, opening an embassy there last year.
Also on rt.com
Bibi-Trump bromance: How the leaders of US & Israel capitalize on each other
With Israel's election to take place on Tuesday, Netanyahu is likely grateful for the latest public show of US support for his government. The PM has touted his close ties to the US president throughout his election campaign, while Trump has offered vocal support for his Israeli ally.
Think your friends would be interested? Share this story!
You can share this story on social media: