Iran to place US Army on 'terror list' if Washington does the same with Revolutionary Guards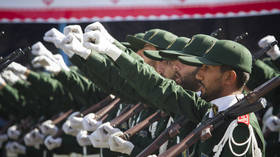 The US Army will land in the company of jihadists on Iran's list of terrorist organizations, should Washington declare the nation's elite Islamic Revolutionary Guard Corps (IRGC) a terrorist group, Iranian lawmakers warned.
Any US attack against the IRGC will be met with strong "reciprocal measures," 255 of the 290 Iranian lawmakers said in a statement issued on Sunday, local media reported. The MPs warned that the response will make the "the leaders of America, who themselves are the creators and supporters of the terrorist groups in the region, regret their foolish actions."
Reports that Washington is preparing to officially designate Iran's elite military unit as a 'terrorist organization' appeared earlier this week.
Also on rt.com
US may declare Iran's Revolutionary Guard a 'terrorist organization' just ahead of Israeli elections
Heshmatollah Falahatpisheh, who chairs the national security and foreign affairs committee in the Iranian parliament, explained that, as soon as that happens, the MPs will place the US Army on Iran's list of terrorist organizations "along with Islamic State [IS, formerly ISIL]." A bill allowing this has already been prepared, he said.
The decades-long conflict between Tehran and Washington reignited last year when President Donald Trump unilaterally pulled the US out of the Joint Comprehensive Plan of Action (JCPOA) on the Iranian nuclear program and re-imposed sanctions on the Islamic republic. Iran blasted the move as illegal and vowed to retaliate.
Think your friends would be interested? Share this story!
You can share this story on social media: