Iran's FM recommends designating US CENTCOM as 'terrorist organization' in a reciprocal move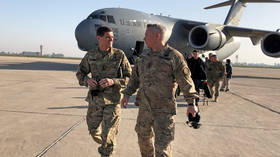 After Washington put Iran's Islamic Revolutionary Guard Corps on its terrorists list, the Iranian Foreign Ministry asked President Hassan Rouhani to designate the US Central Command (CENTCOM) as a terrorist organization.
Due to the "clear support" US forces in Western Asia lend to terrorist groups, and their own "involvement in terrorist activities," the US military in the region should be put on a list of terrorist groups in the Islamic Republic of Iran, Foreign Minister Mohammad Javad Zarif said in a letter sent to Rouhani and Iran's Supreme National Security Council by the ministry.
There has been no official response to Zarif's suggestion so far. However, earlier, the Iranian lawmakers threatened to designate some parts of the US military as a terrorist group in response to measures taken by Washington.
Some top Iranian officials also suggested putting entire US Army on the terrorist list altogether.
Also on rt.com
US designates Iran's Revolutionary Guards as terrorist organization – Trump
Earlier on Monday US President Donald Trump announced that Washington had officially designated the Iranian elite unit as a "terrorist organization," accusing it of being the "primary" force behind Iran's alleged "global terrorist campaign." US Secretary of State Mike Pompeo then explained that the designation is set to take effect in one week.
Iran's top judge, Seyyed Ebrahim Raeisi, also lambasted Washington's decision accusing it of supporting extremists. "A country, which has no other track records but arming, supporting and harboring terrorist groups, considers an official armed force of another country … a terrorist [organization]," he said, as cited by the Iranian Press TV.
Raeisi also said that the US move is likely to have no effect both in legal and political terms "in the eyes" of other nations.
Like this story? Share it with a friend!
You can share this story on social media: