Right-wing Israeli politician's foot fetish VIDEO shows up on Pornhub before parliamentary election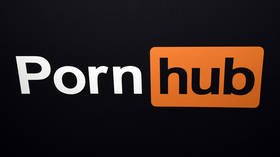 An right-wing politician running in Israel's general election is reaching a whole new (and unexpected) audience after a video of him engaging in a bizarre foot-tickling interview appeared in Pornhub's gay category.
Leader of the Zehut party Moshe Feiglin appeared on a Ynet web series interview on Saturday, in which he engaged in mutual bare foot slaps and massages with the host Dudu Bauchner, who usually attempts to make his political guests laugh and get embarrassed.
The pair downed liquor before slapping and massaging each other's feet, and Bauchner even bit Feiglin's foot before they engaged in a slow dance.
The video soon found its way to Pornhub's gay category.
The appearance is quite the departure for the far-right settler politician who in the past has boasted about being a "proud homophobe" and remains opposed to gay marriage.
Also on rt.com
PG Pornhub? New adult video channel proves an unexpected hit
However, Feiglin is currently attempting to appeal to young voters with a pro-marijuana and libertarian platform, Haaretz reports.
Zehut is expected to win between five and seven seats in the Knesset in the April 9 elections, making the party a likely member of the next government coalition.
Also on rt.com
Netanyahu campaign boosted by slander bots calling opponent 'mentally ill', 'gay', 'rapist' – report
Feiglin himself is a settler and wants Israel to annex West Bank settlements from Palestinian territory. His support for settlements is at odds though with his libertarian belief of minimizing government involvement in people's lives, as settlements rely heavily on government support. He also wants to end the Oslo Accords, have Israel "apply its full sovereignty over all parts" of Israel and Palestine, and financially incentivize Palestinians to leave the country, claiming the only "non-Jews who will remain in Jerusalem are those who will accept the sovereignty of Israel."
Feiglin also wishes to rebuild a third Jewish Temple on Temple Mount, or Noble Sanctuary in Jerusalem, which Muslims consider their third most holy site and where the Al Aqsa Mosque and Dome of the Rock stand, because it's the "land of the Jewish people."
Think your friends would be interested? Share this story!
Subscribe to RT newsletter to get stories the mainstream media won't tell you.
You can share this story on social media: