'Volcano of Rage': UN-backed Libyan government launches counteroffensive against Haftar's army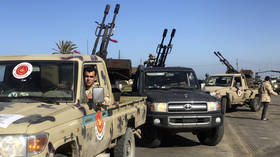 The Tripoli-based government has declared an attack "on all frontlines" against the advancing troops of Field Marshal Khalifa Haftar amid reports of heavy fighting around the city.
The forces of the UN-backed Government of National Accord (GNA) in Tripoli have launched a counteroffensive against the advancing troops of the rival Tobruk-based government, the army's spokesperson, Mohammed Gununu, declared on Sunday.
"The Libyan Army rejects coups and militarization of the state. Libya will always be a civilian state and the army will protect it and secure the people," he said, adding that a joint command HQ was set up to coordinate the military efforts.
The operation, dubbed 'Volcano of Rage', is aimed to repel the approaching Libyan National Army (LNA), led by Field Marshal Khalifa Haftar, who vowed earlier this week to seize Tripoli and liberate it from "militias and terrorists," uniting the country.
Tripoli-based army spokesperson Gununu said that troops are advancing on "all frontlines" and have captured "many military vehicles" from Haftar's forces.
Also on rt.com
Pentagon orders troops to leave Libya which it helped destabilize, laments 'security conditions'
Local media, meanwhile, reported on continued "fierce fighting" around Tripoli International Airport and cited conflicting information on which side controls various positions in the area. The defending forces have called in large reinforcements, channel 218TV said. There were also reports of Haftar's army carrying out its first airstrike on Tripoli's southern suburbs on Sunday. A spokesman for the LNA earlier said that the Tobruk-based forces will shoot down any aircraft flying in the Tripoli area.
The intense fighting is happening just a week ahead of scheduled UN-brokered peace talks. UN's chief Antonio Guterres, who visited both Tripoli and Tobruk this week, called on both sides to "avoid bloody confrontation."
Also on rt.com
'Airstrikes' & clashes: Libya's Haftar forces claim control of Tripoli airport as rivals 'bomb' them
Libya remains torn by a prolonged civil war since 2011 when its longtime leader Muammar Gaddafi was toppled and killed during a US-led military intervention.
Think your friends would be interested? Share this story!
You can share this story on social media: